Electromagnetic (EM), optical, and radar technologies are the most commonly employed tracking methods. For example, electromagnetic tracking systems (EMTS) can alleviate the need for real-time radiological imaging, replacing X-ray, or fluoroscopy with virtual imaging. EMTS provides high tracking accuracy in non-line-of-sight environments, allowing device navigation in the positions where optical and radar tracking does not work effectively.
They are widely employed in medical instruments, virtual reality, game control, etc. An EMTS mainly consists of three parts: magnetic fields generator connected with transmitting coils, control unit, sensing and computing unit. In general, transmitting coils and induction coils of an EMTS are connected to the same control unit to determine an induced electromotive force resulted from which transmitting coil.
In a study published in IEEE/ASME Transactions on Mechatronics, the research group led by Prof. DAI Houde from the Fujian Institute of Research on the Structure of Matter of the Chinese Academy of Sciences has developed a novel wireless five degree-of-freedom (5-D) EMTS, whose induction coils are separated from the control unit.
The researchers attached the induction coil to the tracked object. The object pose with respect to the coordinate system can be acquired through the computing unit.
To improve the tracking speed and determine an induced electromotive force resulted from which transmitting coil, the transmitting coils are simultaneously excited by nine-channel sinusoidal signals with different frequencies, instead of the switching channels in chronological order.
Software and hardware are initiated after the system starts, and then the transmitting coils emit sinusoidal signals. The induction coil generates electromotive forces which are magnified and filtered by a designed module, and then the electromotive forces are sampled by a sampling module. The researchers calculated the amplitudes of electromotive forces by using the sampled data.
Besides, based on the amplitudes of electromotive forces, the researchers calculated the induction coil pose via optimization algorithms. Thus, 5-D tracking of the miniature induction coil was implemented.
The proposed EMTS has a remarkable feature that the connection between the induction coil and the control unit is wireless, which enhances its flexibility and electrical safety.
Experimental results show that the average position and orientation errors are less than 2.3 mm and 0.2°, respectively, which indicates that the proposed EMTS has potential prospects for both medical and industrial applications, especially for the magnetically controlled capsule robot.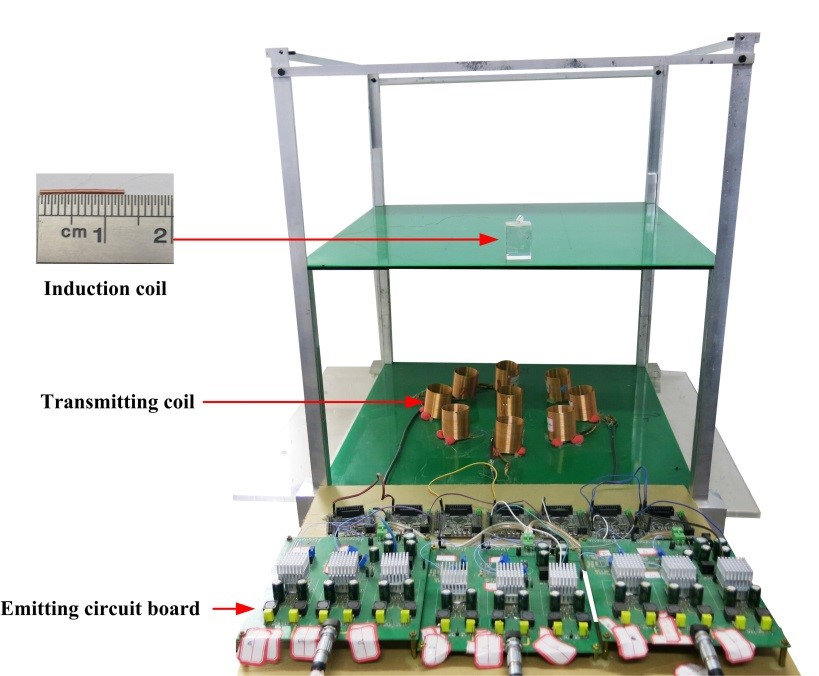 Prototype implementation; For the magnetic fields generator, three emitting circuit boards are adopted in the proposed system, and one emitting circuit board yields three-channel sinusoidal signals (Image by Prof. DAI's group)