Near-infrared (NIR) II luminescent (QDs) with emission in the second biological window (950-1700 nm), which can significantly

reduce scattering light and

increase probing depth,

are extremely suitable for autofluorescence-free biodetection and bioimaging.
To circumvent the limitation of

intrinsic toxicity of the traditional II–VI and IV–VI QDs, it is important to explore NIR-II nano-bioprobes with benign biocompatibility, robust photostability and high photoluminescence quantum yield (PLQY).
In a study published in Nano Today, a research group led by Prof. CHEN Xueyuan from Fujian Institute of Research on the Structure of Matter (FJIRSM) of Chinese Academy of Sciences reported a strategy for designing a class of novel broadband excited NIR-II nanoprobes based on CuInSe2 (CISe) QDs.
These NIR-II nanoprobes were employed for sensitive detection of circulating tumor cells spiked in human whole blood and real-time tumor-targeted bioimaging in live mice.
Through exquisitely manipulating the stoichiometry of Se/In, the researchers synthesized CISe QDs with emission peak tunable from 920 to 1224 nm. Meanwhile, the excitation band of these CISe QDs spanned from 350 to 820 nm, which was highly desired for various bioapplications.
Moreover, after surface coating of thin ZnS shell, an absolute NIR-II PLQY of 21.8% was achieved, far superior to those of other Pb/Cd-free counterparts reported so far.
Benefiting from the intense NIR-II emission of CISe nanoprobes, the researchers demonstrated their feasibility for sensitive bioassay of circulating tumor cells spiked in whole blood samples with the limit of detection down to 12 cell/well (200 μL) of a 96-well plate.
By virtue of the deep penetration depth of NIR-II emission, these CISe nanoprobes were exploited for tumor-targeted bioimaging in live mice with a signal-to-noise ratio of 5.8.
The proposed CISe@ZnS nanoprobes exhibited excellent biocompatibility and rapid clearance through both hepatic and renal pathways. The biodistribution, tumor-targeted accumulation and rapid renal clearance processes of the nanoprobes can be clearly monitored in real time by NIR-II imaging.
These findings demonstrate the promise of CuInSe2 NIR-II nanoprobes for sensitive detection of tumor markers and imaging-guided surgery.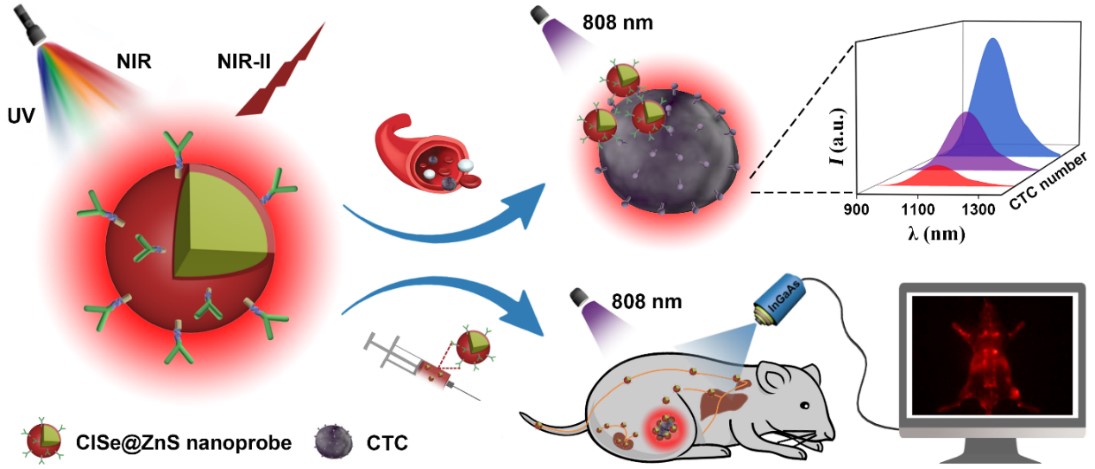 Schematic illustration showing the proposed broadband excitable CISe@ZnS NIR-II luminescent nanoprobes for circulating tumor cells bioassay and tumor-targeted bioimaging (Image by Prof. CHEN Xueyuan's group)