Paraplegia is an impairment in motor or sensory function of the lower extremities, resulting from disease or injury of the spinal cord that causes interference with nerve paths connecting the brain and muscles.
To address these impairments, wearable "exoskeleton robots" is quickly emerging as a method that helps improve this rehab process.
A team of researchers from the Shenzhen Institutes of Advanced Technology (SIAT) of the Chinese Academy of Sciences proposed a new automated intelligent gait planning method that integrated a finite-state machine (FSM) model as an underlying foundation. Experiments were carried out on a exoskeleton robot with four active actuated joints, which was independently developed by this team.
The weight of the exoskeleton robots is important for paraplegic patients to control. When coordinating with the patients, the exoskeleton robot lacks of the transfer process of center of gravity (COG). Patients need several months to learn this coordination training process.
Researchers calculated the condition of COG transfer and carried out this gait planning method online. The proposed method was based on the inverted pendulum model and simplified to several parameters.
After offline simulation test and online paraplegic patients walking assistance, the results showed that this method has reduced the arm muscle output of the exoskeleton robots, which means it can help the patients to walk without the ability to control the COG transfer.
In the future, the team intends to adjust the gait by estimating the velocity of center of mass (COM) and extend the gait to the stairs and slopes, making the exoskeleton robots be used in multiple terrain easily.
This study was published in IEEE Transactions on Automation Science and Engineering.
The concept of aiding paraplegic to walk (Image by MA Yue)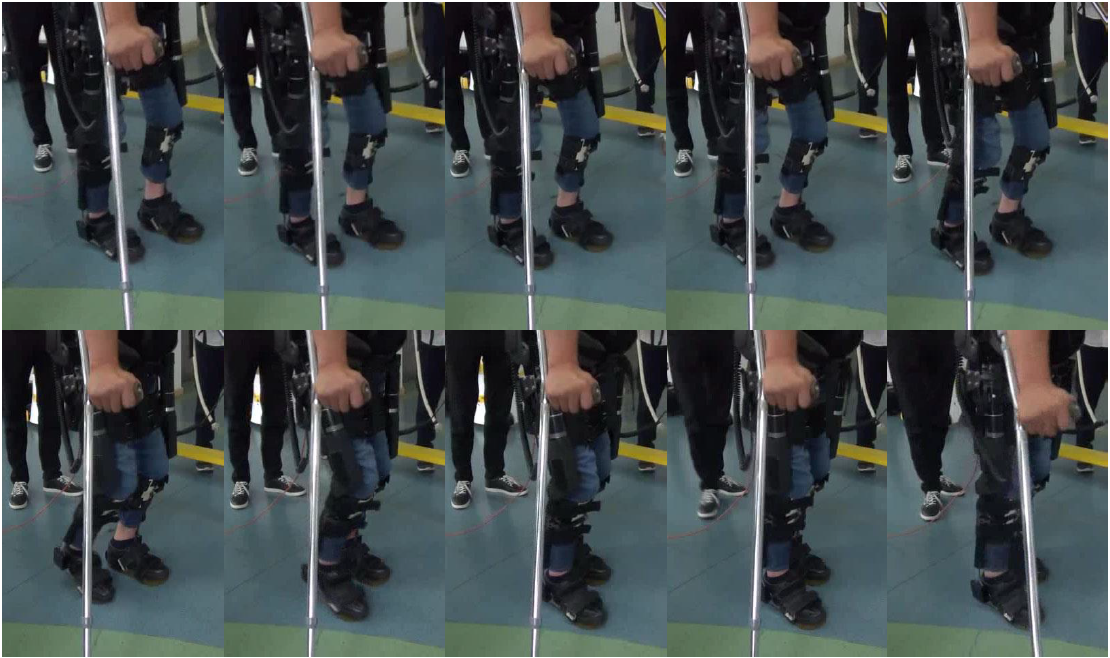 The online test of paraplegia patient wearing SIAT Exoskeleton robot (Image by MA Yue)