Leading to the yellow region visible lasers, the continuous development of laser medicine, biomedical instruments and telecommunication have drawn much attention in past few years. Regrettably, there is still a blank region in this band for laser diode (LD), which puts forward requirements for the emission of yellow light laser by rare earth ion doped lasers.
The fluoride hosts have significantly lower maximum phonon energy than other crystals, which is beneficial for suppressing multiphonon de-excitation processes and CeF3 is such kind of materials that follow this advantage.
Recently, a research team of Shanghai Institute of Optics and Fine Mechanics, Chinese Academic of Sciences, has succeeded in developing a new kind of low-phonon-energy laser crystal: Dy:CeF3 crystal. The result was published in Journal of Luminescence.
Crystal growth system consists of graphite crucible and temperature field. In order to avoid oxidation during crystal growth, the inside of the furnace was under the atmosphere of high-purity Argon (70%) and carbon tetra-fluoride (30%) during the whole procedure. In investigating the characteristics of the crystal growth, spectra, and 570nm luminescence emission, for the first time, the transparent 2 at% Ce: CeF3 crystal was grown successfully by the Bridgman method with no bubbles and cracks in it.
It was found that the Dy:CeF3 crystal had high emission cross section corresponding to the stimulated emission of Dy3+:4F9/2→6H13/2 transition.
Notably, the fluorescence lifetime of 570 nm emission was 1.53 ms, which was longer than any other laser crystals, include Dy:CeF3.
These evidences indicate that the Dy:CeF3 crystal may be a promising material for yellow laser applications.
This work was supported by the National Key R&D Program of China, the National Natural Science Foundation of China, the National Natural Science Foundation of China and the Equipment Pre-research Foundation Project of China.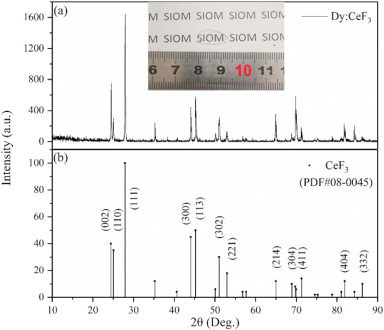 The cutting sample and XRD pattern of CeF3 crystals (Image by SIOM)