As the largest organ of human body, skin provides a barrier outside the body. Once the skin suffers traumatic or surgical injury, the wound will destroy the barrier function and threaten people's life.
Researchers from the Shenzhen Institutes of Advanced Technology (SIAT) of the Chinese Academy of Sciences developed an injectable thermo-sensitive adhesive hydrogel with the ability of filling irregular defect, tissue adhesiveness, antibacterial and angiogenesis.
This study was published in Carbohydrate Polymers.
The researchers prepared the hydrogel by incorporating catechol modified quaternized chitosan (QCS-C) into poly(d,l-lactide)-poly(ethylene glycol)-poly(d,l-lactide) (PLEL) hydrogel, and loaded with nano-scaled bioactive glass.
The hydrogel presented transition from a flowing liquid to a solid gel at 32.6 °C, which was quite suitable for fulfilling the complex wounds through injection. It showed enhanced adhesive strength after gelation, which could effectively bind the ruptured skin of mice.
It also exhibited anti-bacterial activity and significantly high killing ratio (> 95%) for both Staphylococcus aureus and Escherichia coli, which means it possessed biocompatible and biodegradable performance.
The results of mice partial laceration experiments showed that the hydrogel could effectively seal the ruptured skin and accelerate wound healing. Besides, the mechanism of accelerating wound healing could be attributed to the nano-scale bioactive glass, which would stimulate endothelial cells migration and angiogenesis.
The hydrogel wound dressing in the study established a new type of clinical treatment technology for complicated wounds.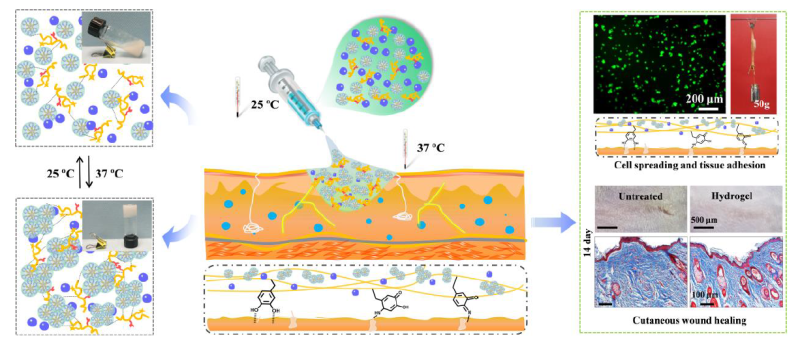 Schematic diagram of thermo-sensitive injectable PLEL-nBG-QCS-C composite hydrogel for wound healing (Image by ZHAO Xiaoli)