Corona Virus Disease 2019 (COVID-19) is a highly infectious disease with a long incubation period. The uncertainty and low predictability of COVID-19 not only threaten people's physical health, but also affect their mental health, especially in terms of emotions and cognition. However, it was difficult to monitor psychological changes in time through traditional surveys on account of long recovery cycle and potential recall bias.
Recently, a research group led by Prof. ZHU Tingshao from Key Laboratory of Behavioral Science, Institute of Psychology of the Chinese Academy of Sciences sampled and analyzed the Weibo posts from 17,865 active Weibo users (posts ≥ 50 during the period from 31 December, 2019 to 26 January, 2020) using the approach of Online Ecological Recognition (OER) based on several machine-learning predictive models.
The researchers calculated word frequency, scores of emotional indicators (e.g., anxiety, depression, indignation, and Oxford happiness) and cognitive indicators (e.g., social risk judgment and life satisfaction) from the collected data. The sentiment analysis and the paired sample t-test were performed to examine the differences in the same group before and after the declaration of COVID-19 on 20 January, 2020.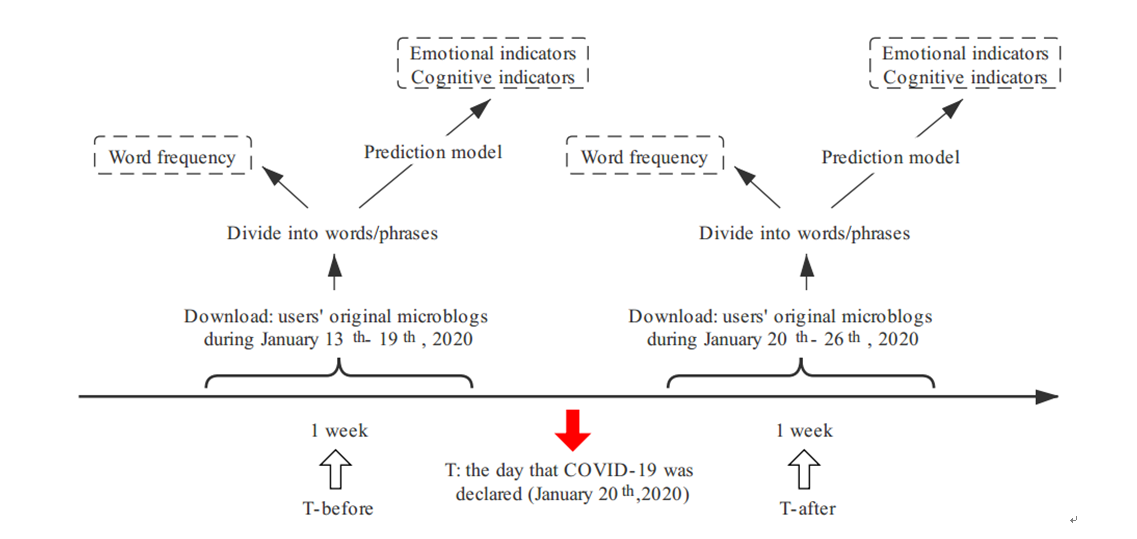 Fig. Procedures of feature extraction from online Weibo data and psychological indicator predicted by dynamic features. (Image by ZHU Tingshao's group)
The results showed that negative emotions (e.g., anxiety, depression and indignation) and sensitivity to social risks increased, while the scores of positive emotions (e.g., Oxford happiness) and life satisfaction decreased after declaration of COVID-19 in China.
Moreover, people showed more concern for health and family, and less concern for leisure and friends. The results suggest that public health emergencies have significant impacts on public's mental health, specifically manifested as increased negative emotions and negative cognition.
This work entitled "The Impact of COVID-19 Epidemic Declaration on Psychological Consequences: A Study on Active Weibo Users" was published in International Journal of Environmental Research and Public Health on Mar. 19.
This work was funded by National Natural Science Foundation of China.