According to World Health Organization, the number of deaths caused by various types of hepatitis (liver diseases) every year is about 1.4 million to 1.5 million, ranking seventh among all diseases.
A research team led by WAN Xiaochun, the deputy director of the Institute of Biomedicine and Biotechnology, Shenzhen Institutes of Advanced Technology (SIAT) of the Chinese Academy of Sciences, has developed an original macromolecule drug, AS1501, which is suitable for liver damage and liver failure caused by viral, autoimmune and drug-induced hepatitis.
Prof. WAN had been engaged in the research of antibody drugs for more than 20 years in research institutes and large pharmaceutical companies at abroad. He is also the inventor of the patent technology for pure human monoclonal antibody.
WAN's team found that hepatitis lead to mass death of liver cells, and it had five death receptors. "What we need to do is turn off the death switch to prevent liver cells from dying," said WAN.
He further explained that AS1501 competes with Death Receptor 5 (DR5) on the surface of cell membrane to bind with TRAIL, blocking cell apoptosis caused by the combination of TRAIL and DR5.
Compared with the existing drugs for liver diseases in the market, AS1501 focuses on organ damage caused by host immune response and blocks cell death, thus effectively preventing liver injury and liver failure.
"The drug target we discovered was previously used to treat tumors, but all ended in failure. It was unexpectedly found to be effective in treating liver disease," said WAN.
Prof. WAN and his team found that AS1501, as a frontal blocker of apoptosis, not only targeted at liver failure, but also had effects on myocardial infarction, cerebral stroke, Alzheimer's disease, etc., which needs further verification.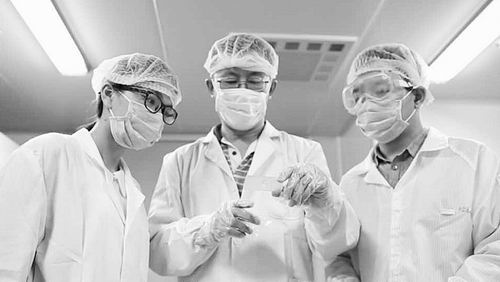 Experiment in progress. (Image by SIAT)