Seed dormancy and germination influence plant fitness and agricultural production. DELAY OF GERMINATION 1 (DOG1) has been identified as a dormancy-specific regulator in Arabidopsis, and DOG1 is conserved in the plant kingdom.
Identification of DOG1 associated proteins will further improve our understanding of the molecular mechanism underlying seed dormancy and regulation.
A research group led by Prof. LIU Yongxiu from the Institute of Botany of the Chinese Academy of Sciences, has discovered a new regulator that controls dormancy and germination in Arabidopsis. This gene is named as AtSdr4L, which encodes a protein with unknown biochemical function.
The researchers found that the atsdr4l mutation causes both decreased gibberellin (GA) biosynthesis and response. In addition, a genetic analysis revealed that AtSdr4L acts upstream of RGA-LIKE 2 (RGL2) in the GA pathway and is epistatic to DOG1 for dormancy.
The researchers propose that AtSdr4L, a novel seed-specific regulator, regulates dormancy and germination by mediating both DOG1 and GA pathways.
The study entitled "Arabidopsis thaliana Seed dormancy 4-Like regulates seed dormancy and germination by mediating the gibberellin pathway" has been online in Journal of Experimental Botany.
The study was supported by the National Natural Science Foundation of China and the National Basic Research Program of China.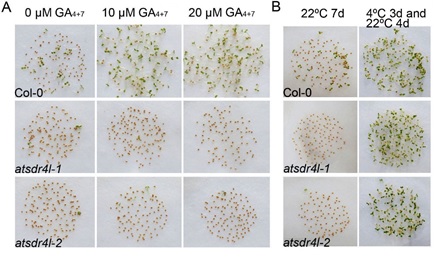 GA treatment cannot break the strong dormancy of atsdr4l seeds, but stratification can. (Image by LIU Yongxiu)