Chinese traditional herbal medicines have been widely recognized by more and more doctors, medical institutions and individuals in western countries. Especially in recent decades, various effective pure plant drugs extracted based on the experience of Chinese traditional herbal medicines consolidated their status in the medical field.
In medical application, the research on artificial intelligence methods based on deep learning have made breakthroughs. However, in traditional medicine, the diagnosis and treatment using intelligent traditional Chinese medicine (TCM) are still in its infancy.
In a recent study published in IEEE Access, ZHENG Zeyu's team at Shenyang Institute of Automation of the Chinese Academy of Sciences have proposed an adaptive traditional Chinese medicine prescription generation model for intelligent TCM research. This method is based on the core idea of TCM diagnosis and treatment process - syndrome differentiation and treatment.
In the new model, the features of the patient's symptom information are first extracted using deep recurrent neural network. Considering the severity of different symptoms of the patient, each herb in the prescription can then be dynamically generated according to the corresponding symptoms, realizing a process of intelligent automatic diagnosis and treatment of TCM.
Compared with previous study on intelligent TCM, this method is completely based on the learning method and does not need to manually design any rules in advance. Also, it shows good adaptability.
Apart from being an exploration in the research of intelligent traditional Chinese medicine, this method can inspire future study on applying artificial intelligence technology in outpatient diagnosis and treatment.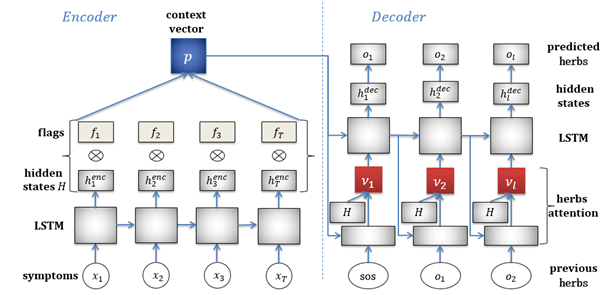 The Traditional Chinese Medicine prescription generation model based on deep recurrent neural network (Image by LIU Zhi)