Fossil woods preserved in deposits through the process of permineralization play a crucial role in reconstructing the floristics aspects of ancient forest ecosystems and climatic conditions in deep time.
Fossil woods have been widely discovered in terrestrial ecosystems from the dinosaurs' ages in the Jurassic and Cretaceous. In China, fossil woods are mainly documented in the north and records in the south are relatively poor.
Researchers led by Prof. WANG Yongdong from the Nanjing Institute of Geology and Palaeontology of the Chinese Academy of Sciences (NIGPAS) and their collaborators reported a new extinct species of conifer wood, Brachyoxylon zhouii, dating back to over 100 million years. The study was published in Historical Biology.
The fossil wood specimen was found in the Early Cretaceous Guantou Formation (about 110 Ma) in Yongkang City of Zhejiang Province, which is anatomically different from any reported fossil woods in Zhejiang.
Based on comparisons between the present fossil wood material and other relative fossil woods worldwide, a new species of morphogenus Brachyoxylon, i.e. Brachyoxylon zhouii was established by the research team. The specific name zhouii is dedicated to Prof. ZHOU Zhiyan for his contributions to Palaeonbotany.
The new species is characterized by distinct growth rings, a mixed type of radial tracheary pitting, araucarioid cross-field pitting, high uniseriate rays, and traumatic resin canals.
The researchers conducted quantitative analysis of the growth ring, and the results indicated that the forest composition was evergreen with a Leaf Retention Time (LRT) of 3-15 years.
Combining with the analysis of sedimentology, palynology and paleosols, researchers assumed that Zhejiang region was dominated by a subtropical to tropical and relatively semiarid climate during the Early Cretaceous.
The discovery of Brachyoxylon zhouii not only enriches the understanding of the fossil forest composition and paleoclimate but also provides essential evidence to reconstruct paleohabitats of dinosaurs in the Early Cretaceous of Zhejiang Province.
This research was supported by the National Natural Sciences Foundation of China, the Strategic Priority Program (B) of CAS, the State Key Program for Basic Research & Development of Ministry of Science and Technology of China, and the State Key Laboratory of Palaeobiology and Stratigraphy, Nanjing Institute of Geology and Palaeontology, CAS.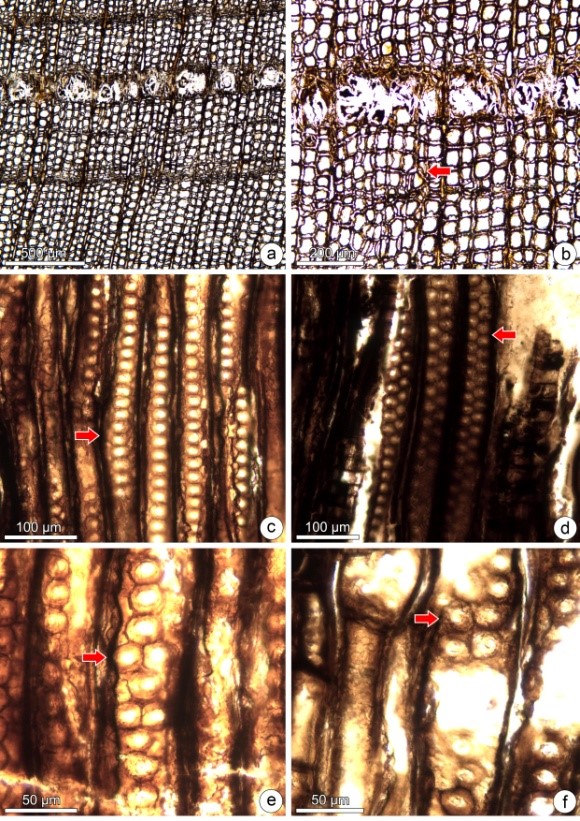 The anatomical structures of growth rings, radial tracheary pitting in fossil conifer wood Brachyoxylon zhouii from the Early Cretaceous in Zhejiang Province of China (Image by NIGPAS)