The electrochemical CO2 reduction reaction (CO2RR) to value-added and readily collectable liquid products is promising. Among these products, formic acid/formate is a key intermediate renewable chemical feedstock and potential hydrogen storage material.
Bismuthene (Bi-ene), atomically thin layers of Bi atoms, has emerged as a superior candidate for electrocatalytic CO2 reduction to formate. However, great efforts are still needed to meet the commercial requirements with current densities greater than 200 mA cm-2 and long-term stability for industrial applications.
In a study published in Energy & Environmental Science, the research group led by Prof. ZHU Qilong from Fujian Institute of Research on the Structure of Matter (FJIRSM) of the Chinese Academy of Sciences assembled a self-supported large-size 3D porous conductive network of bismuthene (Bi-ene-NW) as an efficient superstructure electrocatalytic membrane for CO2RR, in which atomically thin Bi-ene nanosheets with rich edge-site-involved defects are interconnected.
The nanostructure of Bi-ene-NW was delicately engineered through a versatile electrochemical template strategy including the confinement growth of 3D Bi2O3 nanosheet network and in situ cathodically topotactic transformation. This superstructured electrocatalytic membrane can be utilized as an ascendant catalytic cathode, displaying an unprecedented CO2RR performance with near-unity selectivity in a wide potential window and large current density for formate production.
The researchers revealed that the Bi-ene nanolayers are atomically thin with abundant defects in the roughened plane edges and in-plane pore edges. Besides, they found that Bi-ene-NW used as membranous catalyst features abundant accessible sites with high intrinsic activity, multiple interconnected channels and superior conductivity for mass/charge transport.
The unique spatial arrangement and high intrinsic activity of the Bi-ene make the Bi-ene-NW superstructure capable of delivering industry-compatible current densities up to 500 mA cm-2 for formate production in a flow cell. Bi-ene-NW possess ultrahigh stability for electrocatalysis. It was ultrastable to continuously operate for over 500 h at a high current density without significant activity decay.
The operando ATR-IR and theoretical calculations demonstrated that the rich defects in the roughened plane edges and in-plane pore edges of Bi-ene are conducive to the *OCHO intermediate stabilization for formate production.
This study may inspire the development of efficient electrocatalysts for electrochemical CO2 reduction and other electrosynthesis with industrial prospects.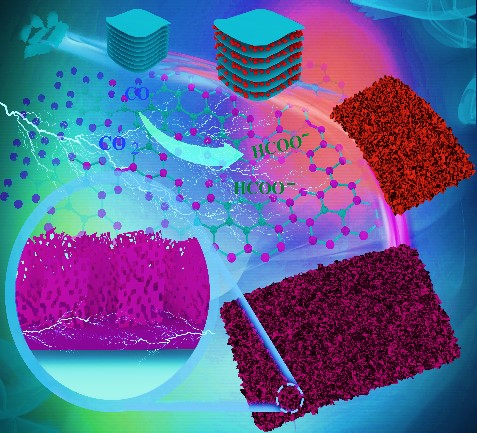 3D porous conductive network of atomically thin and defect-rich bismuthene nanolayers with an unparalleled catalytic performance for CO2 electroreduction to formate. (Image by Prof. ZHU's Group)