Recently, the research group led by Prof. HUANG Qing from the Institute of Intelligent Machines of the Hefei Institutes of Physical Science, together with Dr. ZHANG Fengqiu's group from Zhengzhou University, revealed the B-Z conformation transition of DNA in chromatin remodeling through infrared spectroscopy.
Z-DNA is difficult to be observed in cells in spite of the increasing attention paid to it. One of the main reasons is the lack of a simple and reliable method for direct observation of DNA conformation changes. A potential way is chromatin remodeling, one of the important aspects of epigenetics. In the process of chromatin remodeling, the interaction between histone and DNA varies, which may lead to the change of DNA conformations.
In this research, the researchers employed Fourier transform infrared spectroscopy to observe and analyze the characteristic peaks related to DNA molecules. It was found that by adjusting the catalytic subunit BRG1/BRM in the chromatin remodeling complex SWI/SNF (switch/sucrose nonfermenting), chromatin remodeling could be induced and accompanied by the B-Z transition of DNA conformations.
In a previous study conducted by Prof. HUANG's group, they found acetylation of histone that could cause Z-DNA transformation, was also applied in infrared spectroscopy.
This time, they not only used the same method to study the DNA conformation transition in ATP dependent chromatin remodeling but also verified this conformation transition additionally by Chromatin Immunoprecipitation technology. Therefore, on the other hand, this work also proved the reliability of infrared spectroscopy to characterize the Z-DNA in cells.
The above research was supported by the National Natural Science Foundation of China.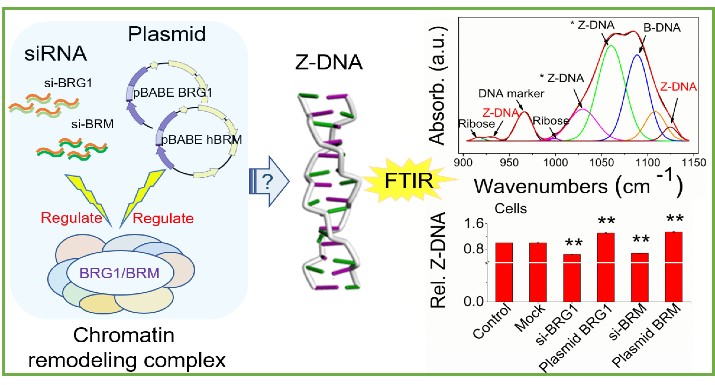 Schematic plot illustrating that chromatin remodeling by regulating BRG1/BRM in the cells may induce B-Z DNA transformation which can be examined by Fourier transform infrared spectroscopy. (Image by LI Yalin)