Artificial transistors that can control and monitor ionic and/or protonic currents are ideal means for interfacing with biological systems. It is pivotal for developing new types of proton-conductive materials to transduce biochemical events into electronic signals.
In a study published in Adv. Mater., the research groups led by Prof. WANG Ruihu and Prof. XU Gang from Fujian Institute of Research on the Structure of Matter (FJIRSM) of the Chinese Academy of Sciences, have developed a porous organic polymer membranes (POPM) as proton-conductive materials for protonic field-effect transistors (FETs).
The researchers facilely prepared thiourea-based POPM by thiourea-formation condensation reaction at ambient temperature. The excellent flexibility and robustness of POPM enable ready fabrication and characterization of POPM-based protonic FET devices.
The flow of protonic currents could be controlled and monitored by the electrostatic potentials applied to gate electrodes. POPM delivers proton mobility of 5.7 × 10-3 cm2 V-1 s-1 and charge carrier density of 6.6 × 1017 cm-3 at gate voltage of 0 V. The properties are compable with those reported for state-of-the-art artificial conductors.
Besides, the researchers provided one type of promising proton-conductive materials for modular protonic FETs. Considering unique advantage of POPM in terms of structural modularity and readily functionalization, their physical and electrical properties could be readily modulated through varying structure backbones and incorporated guest molecules.
This study proposed one type of promising modular proton-conductive materials for bioelectronics application.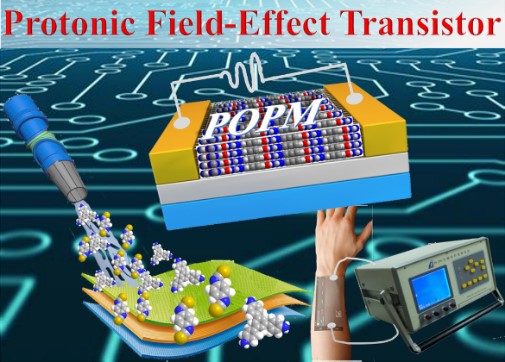 The graphic abstract of this manuscript (Image by Prof. WANG's group)