The Biomedical Polymers Research Group at the Ningbo Institute of Materials Technology and Engineering (NIMTE) of the Chinese Academy of Sciences (CAS) fabricated white-light-emitting alginate/polyacrylamide (PAAm) double network composite hydrogels, with vinyl-modified Ce-doped yttrium aluminum garnet phosphors (YAG:Ce–VTES) as crosslinkers.
The obtained hydrogels showed superior stretchability and toughness as well as remarkable white-light-emission properties combined with the blue light irradiation. The study has been published in Journal of Materials Chemistry C.
White-light-emitting materials have attracted great research interest in academia and industry for their applications in flexible lighting, flexible display devices and biosensors. Traditional strategy to fabricate white-light-emitting materials is to coat nano- or micro-scaled yellow phosphors (e.g., yttrium aluminum garnet doped Ce, denoted as YAG:Ce) on a blue backlight substrate. However, the obtained inorganic white-light-emitting materials are usually hard and brittle. In addition, the extensibility of the substrate has been restricted by the insufficient bonding strength between the phosphor powders and the substrate, thus the material is difficult to apply in the field of flexible display devices.
To address this issue, the research group developed a facile strategy to fabricate double network composite hydrogels, which consist of an ion-crosslinked calcium alginate network and an interpenetrating PAAm network crosslinked by YAG:Ce–VTES.
Thanks to the synergistic effect of the double networks, researchers regulated the concentration of YAG:Ce and the content of alginate and acrylamide (AAm) to achieve a fracture elongation of 600% and a compression strength of 3.6 MPa.
Moreover, under blue backlight, white-light-emitting flexible display devices based on the obtained hydrogels showed high luminous efficiency, optical stability and low cost.
This strategy has provided a facile way to fabricate white-light-emitting materials with superior mechanical properties, promising flexible lighting and display devices a bright future for practical applications and commercialization.
This work was supported by National Natural Science Foundation of China (No. 21574145, No. 51803227, No. 51873224), Zhejiang Provincial Natural Science Foundation of China (No. LY17E030011, No. LQ19E030010), CAS President's International Fellowship for Visiting Scientists (No. 2019VBA0016).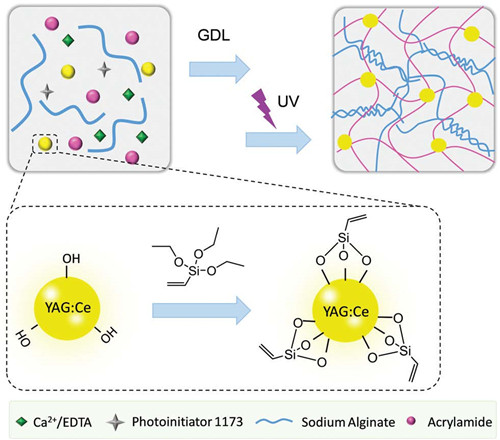 Schematic illustration of the preparation of alginate/PAAm double network composite hydrogels (Image by NIMTE)