In recent years, nanostructured Fe-nitrogen-coordinated carbon catalysts, namely Fe-N-C, have emerged as a fascinating catalyst in electrocatalysis for water splitting, N2 fixation, and CO2 conversion, due to the earth-abundant, non-toxic, biocompatible, and environmentally benign characteristics of Fe.
However, the exploration of Fe-N-C for organic synthesis is still scarce to date. Meanwhile, the current complicated synthetic route and high cost have seriously hindered the development of Fe-N-C catalysts, especially for large-scale production applications.
A research team led by Prof. YANG Yong from the Qingdao Institute of Bioenergy and Bioprocess Technology (QIBEBT) of the Chinese Academy of Sciences developed a reusable heterogeneous non-precious iron nanocomposite comprising metallic Fe-Fe3C nanoparticles and Fe-Nx sites on N-doped porous carbon. This allows highly efficient synthesis of quinolines and quinazolinones via oxidative coupling of amines and aldehydes using H2O2 as the green oxidant in aqueous solution under mild conditions.
A set of pharmaceutically relevant quinazolines and quinazolinones were synthesized in high yields with a broad substrate scope and good tolerance of functional groups. Characterization and control experiments disclosed that synergistic catalysis on Fe/Fe3C NPs and Fe-Nx sites was primarily responsible for the high efficiency of the reactions.
Furthermore, the iron nanocomposite could be readily recovered for successive use without appreciable loss in catalytic activity and selectivity.
This work not only demonstrates the potential of the nanostructured Fe-N-C catalyst for complex synthetic reactions but also provides a new efficient and sustainable method for the synthesis of pharmaceutically important N-heterocycles.
The study was published in Chemical Science as Hot Article and was supported by the Key Technology R&D Program of Shandong Province and the Royal Society (UK) for a Newton Advanced Fellowship.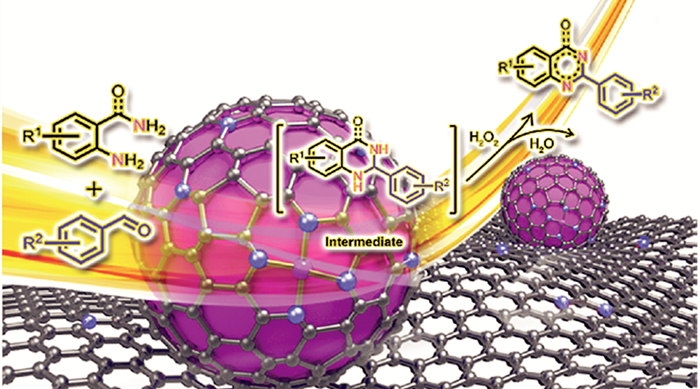 Synergistic catalysis for expedient synthesis of N-heterocycles. (Image by SONG Tao)