Halide double perovskites have recently bloomed as the green alternative to the Pb-based counterparts for optoelectronic applications. Particularly, the intrinsic quantum-confined structures greatly favor the application of photodetectors, as exemplified by the typical 2D multilayered lead halide perovskites.
However, the exploration of promising 2D organic-inorganic hybrid double perovskites on the optoelectronic properties, especially the detection of high-energy radiation, remains a huge blank.
In a study published in Angewandte Chemie International Edition, a research group led by Prof. LUO Junhua from Fujian Institute of Research on the Structure of Matter (FJIRSM) of the Chinese Academy of Sciences and Prof. XU Yadong from Northwestern Polytechnical University presented single crystals of a 2D lead-free hybrid double perovskite, (BA)2CsAgBiBr7, which can serve as the potential X-ray detecting materials.
The researchers found that (BA)2CsAgBiBr7 featured a 2D quantum-confined structure, large crystals of which were obtained from saturated solution by temperature cooling technique. Atomic-force microscopy (AFM) image and X-ray diffraction (XRD) pattern of (BA)2CsAgBiBr7 perovskite wafer both confirm the single-crystalline nature.
Single crystals of (BA)2CsAgBiBr7 exhibited quite large μτ (mobility lifetime) product up to 1.21×10-3 cm2.V-1, which was comparable with that of CH3NH3PbI3 wafers (2×10-4 cm2.V-1). Emphatically, this figure-of-merit realized in 2D hybrid double perovskite is unprecedented.
Moreover, they found vertical-type detector fabricated on the

(BA)2CsAgBiBr7 crystal yielded a superior sensitivity of 4.2 μC Gair-1 cm-2 under X-ray source, which was four times higher than CH3NH3PbI3 perovskite films (1.1 μC Gair-1 cm-2). This is the first report so far on 2D hybrid double perovskite for optoelectronic applications of high energy X-ray irradiation.
This study suggests a new direction for the design of a non-toxic perovskite semiconductor with 2D layered structure instead of 3D structure to realize large μτ product toward X-ray detection showing great potentials of 2D hybrid double perovskites as candidates toward X-ray detection.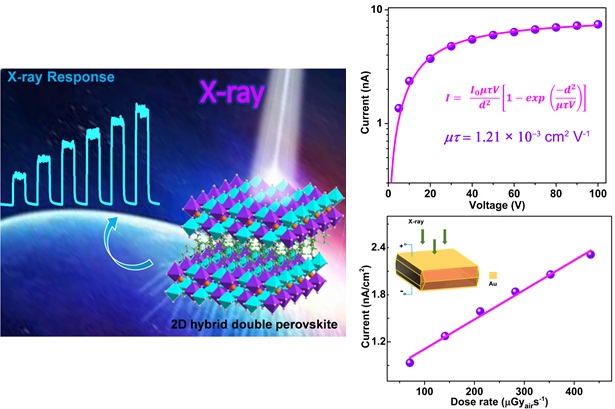 Schematic illustration of (BA)2CsAgBiBr7 under X-ray source. Bias-dependent photoconductivity and the photocurrent at various dose rates of the vertical-type device. (Image by Prof. LUO's group)