A superb infrared nonlinear optical (IR–NLO) material should meet the following criteria: strong second-harmonic-generation (SHG) intensity (dij), high laser induced damage threshold (LIDT), wide phase-matching (PM) range, broad IR transparent window, and stable physicochemical properties. However, "all in one" is hard to realize. Especially, the large dij and high LIDT are usually contradictory in one compound.
A research team led by Prof. ZHU qilong and Prof. LIN hua from the Fujian Institute of Research on the Structure of Matter (FJIRSM) of the Chinese Academy of Sciences proposed a facile mid-temperature fluxing method to synthesize a novel IR–NLO material Sn2Ga2S5.
In this study, Sn2Ga2S5 crystallized in the polar space group Pna21 and showed a distinctive 3D non-centrosymmetric (NCS) network made by

layers and

chains via the sharing common corners.
The researchers found that Sn2Ga2S5 exhibited an excellent comprehensive performance for IR-NLO applications that surpassed current benchmark AgGaS2 (AGS), including strong SHG response dij (2.5 ×AGS), high LIDT (6.6 ×AGS), wide PM range (> 725 nm), broad transparent region (0.57–13.8 μm) and low MP (ca. 958 K).
Theoretical calculations indicated that the dimeric [Sn2S6] and [Ga2S5] asymmetric building motifs (ABMs) contributed greatly to the strong SHG effect and optical anisotropy of the compound.
Moreover, this work provides some useful guidance for the prediction and discovery of new IR-NLO chalcogenides with mixed ABMs.
The study entitled "Sn2Ga2S5: A Polar Semiconductor with Exceptional Infrared Nonlinear Optical Properties Originating from the Combined Effect of Mixed Asymmetric Building Motifs" was published in Chem. Mater.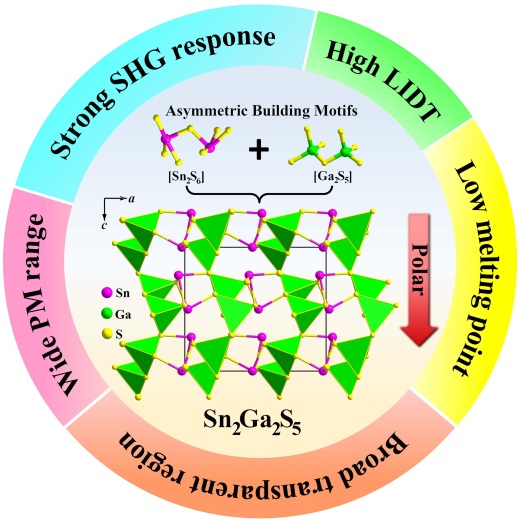 A superb infrared nonlinear optical material Sn2Ga2S5. (Image by Prof. ZHU's group)