Afforestation directly influences soil microbial communities by altering vegetation cover. Previous studies mostly focused on the overall effects of afforestation on microbial communities among different land use types. However, how soil microbial community structure responds spatially to plant distribution within a land use type following afforestation remains unclear.
Supervised by Prof. CHENG Xiaoli, LI Qianxi, a postdoctor of Wuhan Botanical Garden, investigated the spatial variations in soil microbial biomass and community composition in woodland, shrubland and adjacent open areas in the Danjiangkou Reservoir of central China, and explored the underlying mechanisms of whether or not and how environmental drivers, including biotic factors and abiotic factors regulated the spatial variations in these microbial properties.
For each land use type, similar spatial distribution trends were observed for different kinds of microbial phospholipid fatty acid (PLFA) profiles. The tree distribution-induced shifts in environmental factors controlled the spatial patterns in microbial communities, but the major drivers varied with land use type.
Additionally, the bacterial community was more sensitive to local environmental change than the fungal community in the coniferous forest.
Results revealed a shift in drivers on microbial communities under afforestation. The variations in microbial communities within an ecosystem under afforestation should be carefully considered to reduce the uncertainty of land use change models.
This research was financially supported by the National Natural Science Foundation of China and the "Strategic Priority Research Program B of the Chinese Academy of Sciences".
Results have been published in Soil & Tillage Research entitled "Spatial variation in soil microbial community structure and its relation to plant distribution and local environments following afforestation in central China".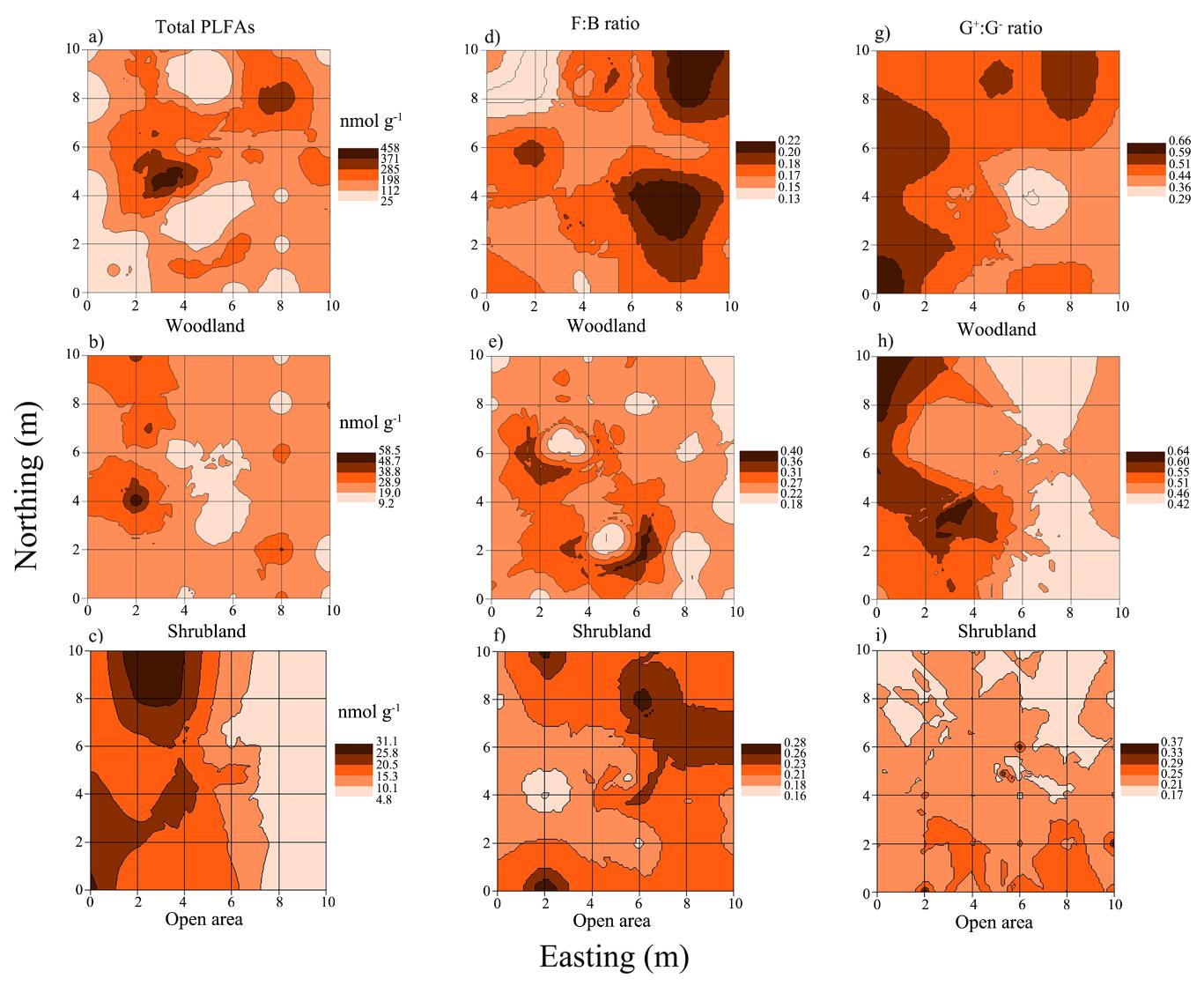 Spatial patterns of the soil microbial community structure as characterized by the patterns of total PLFA, the F:B ratio and the G+: G- ratio. (Image by LI Qianxi)