Organic phosphonates are widely used in Reverse Osmosis (RO) wastewater purification due to their strong chelating ability to metal ions, corrosion inhibition and scale inhibition.
In RO wastewater reuse, high concentration organic phosphonate scale inhibitor limits the reuse rate of concentrated wastewater. Direct discharge of RO wastewater or other wastewater containing organic phosphonates will accelerate eutrophication and increase the bioavailability and toxicity of metals. Therefore, it is necessary to remove the organic phosphonates in wastewater containing organic phosphonates.
Associate researcher WANG Zhi from the Institute of Geodesy and Geophysics (IGG) of the Chinese Academy of Sciences and his collaborators studied the degradation process and mechanism of a typical organic phosphonate (NTMP) by ultraviolet/persulfate oxidation system. Their findings were published in Water Research.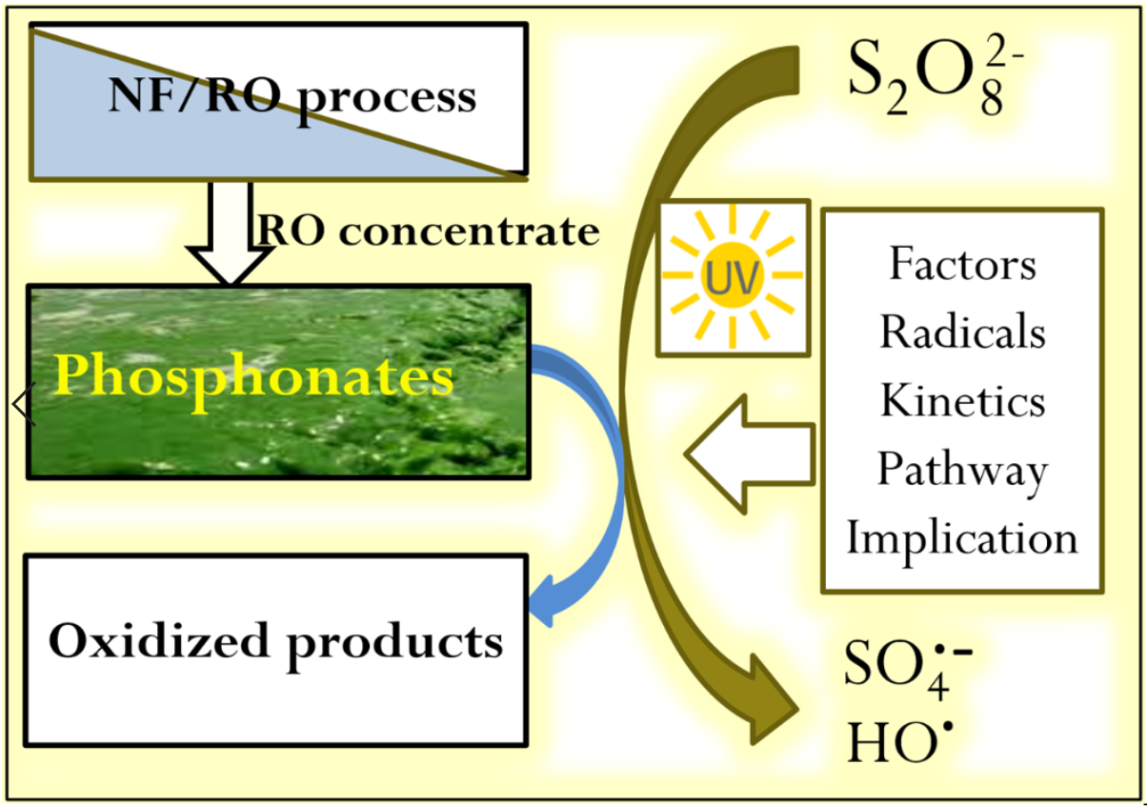 Mechanism model of NTMP degradation by UV/persulfate (Image by IGG)
They found that UV/persulfate could effectively degrade NTMP, and the reaction followed pseudo-first-order kinetics. Neutral conditions were favorable for NTMP degradation, and the degradation was significantly inhibited under high alkaline conditions (e.g. with a pH of 11.5), mainly due to the decrease of SO4 concentration of sulfate radical.
The reaction of SO4 and HO with NTMP in the reaction system was quantified for the first time by the precise measurement technique of chemical probe. SO4 played a major role in NTMP degradation (62-95%).
In wastewater containing organic phosphonate, the presence of chloride and bicarbonate would significantly affect the degradation rate of NTMP.
The degradation pathway of NTMP was determined by the determination of degradation products. Economic comparison showed that the cost of NTMP degradation in UV/persulfate oxidation system was only 5%-45% of that in UV/hydrogen peroxide oxidation system.
"UV/persulfate oxidation is an economical and efficient way to remove organic phosphonate pollutants. It can be used for deep treatment and reuse of similar wastewater, and plays an important role in current water ecological protection and water reuse," said WANG Zhi.