Study Sheds Light on Molecular Regulation of Phytohormone Abscisic Acid Signaling during Seed Germination
May 15, 2019 Email"> PrintText Size


Seed germination and postgerminative growth are strictly regulated by multiple environmental and intrinsic cues. Previous studies have shown that ABSCISIC ACID-INSENSITIVE5 (ABI5) is involved in phytohormone abscisic acid (ABA) and other signaling pathways during seed germination. However, details of the transcriptional regulatory mechanisms underlying ABI5 and its interacting factors remain largely unknown.

Researchers from Xishuangbanna Tropical Botanical Garden (XTBG) conducted a study to discover further details about the molecular regulation of ABA signaling during seed germination. They got the research results published in the prestigious journal Plant Cell.

Their study showed that a transcriptional complex involving ABI5 and its interacting partners maintained the appropriate level of abscisic acid signaling during seed germination.

The researchers used the yeast two-hybrid (Y2H) system to screen an Arabidopsis cDNA library for ABI5-interacting transcription factors. They determined that ABI5 physically associated with INDUCER OF CBF EXPRESSION1 (ICE1) in plant cell nuclei, suggesting that ICE1 functions as an interacting partner of ABI5 to modulate ABA signaling.

They then found that ICE1 negatively modulated ABA Responses during seed germination and directly suppressed the expression of ABA-responsive genes EM6 and EM1.

ICE1 antagonized the transcriptional function of ABI5 to regulate ABA signaling during seed germination. It also physically interacted with DELLA proteins in the nuclei of plant cells.

Moreover, disruption of ICE1 partially restored the ABA-hyposensitive phenotype of the della mutant during seed germination. DELLA proteins repressed the regulatory effect of ICE1.

"Our results indicate that ICE1 functions together with ABI5 and DELLA proteins to maintain the appropriate level of ABA signaling during seed germination. They provide a mechanistic understanding of how ABA signaling is fine-tuned by a transcriptional complex involving ABI5 and its interacting factors", said Prof. HU Yanru, principal investigator of the study.

Seedlings of the abi5 ice1 double mutant and other related mutants or transgenic plants 6 days after germination on medium containing 0.5 μM ABA. (Image by HU Yanru)

A simplified model for the roles of DELLA, ABI5 and ICE1 interactions in modulating ABA signaling during seed germination. (Image by HU Yanru)
(Editor: ZHANG Nannan)
In Situ Symbiotic Seed Germination to Conserve Endangered Orchid Species
Jun 09, 2017
Researchers from Xishuangbanna Tropical Botanical Garden (XTBG) of the Chinese Academy of Sciences proposed a novel in situ advanced restoration-friendly program for the endangered epiphytic orchid species Dendrobium devonianum (an epiphytic orc...

Rapid Seed Germination Helps Successful Invasion of Spiny Amaranth in Xishuangbanna
May 17, 2017
Prof. WEN Bin and his student of Xishuangbanna Tropical Botanical Garden (XTBG) investigated the germination requirements and seed germination of the two congeneric species, spiny and edible amaranths, under high-temperature and water stress. They a...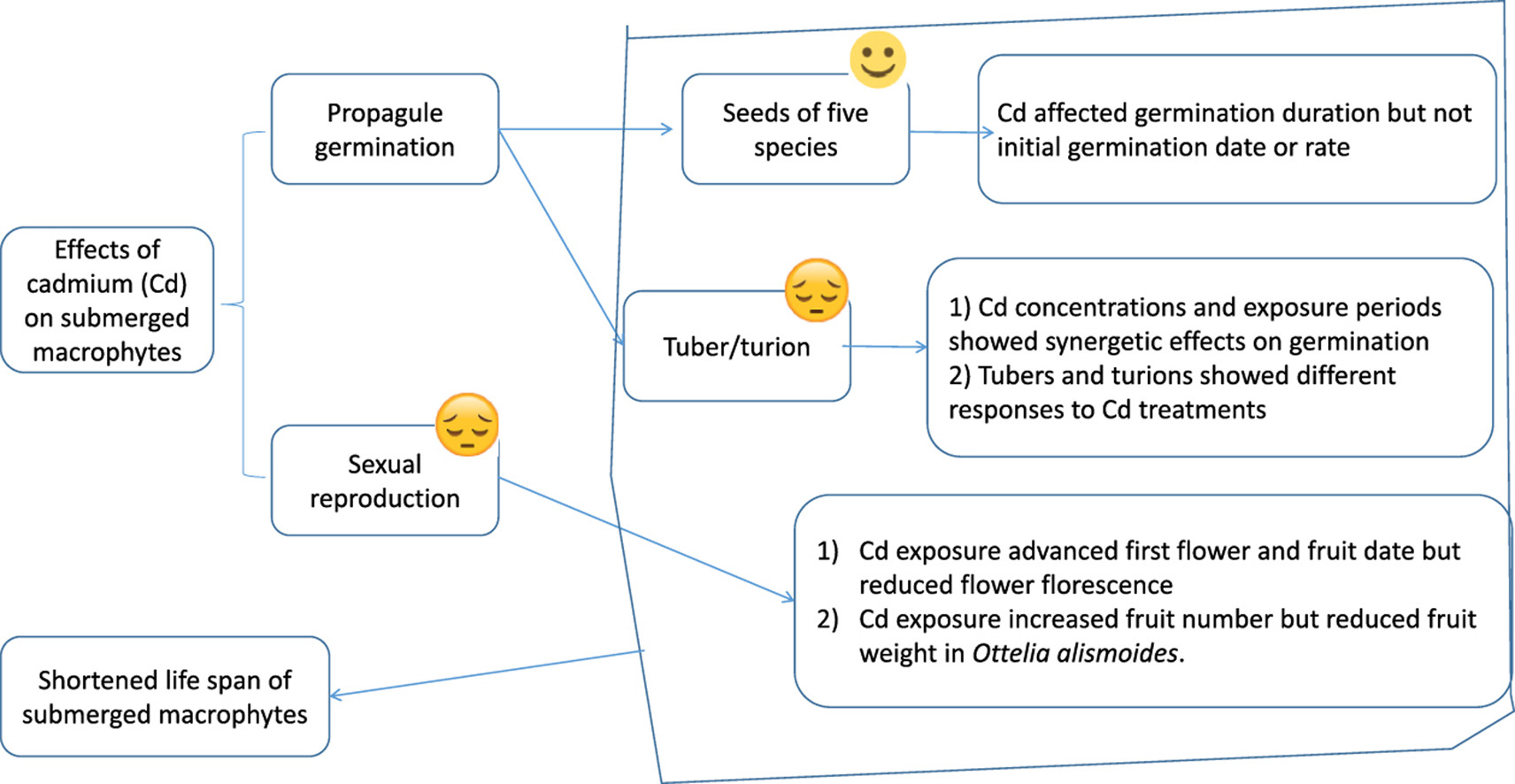 What Happens to Macrophytes Exposed to Heavy Metal of Cadmium?
Mar 05, 2019
Cadmium (Cd) has become one of most common heavy metal contaminants in China according to the recent Communique of the National Soil Pollution Survey in China. Most recent studies have focused on the effect of heavy metals on the vegetative growth phas...