Plasma Research Could Help to Realize Efficient Sterilization: Study
Mar 13, 2019 Email"> PrintText Size


Efficient sterilization could be realized by regulating the interaction between plasma and liquid during the plasma discharges, according to a new study conducted by a medical research team with Institute of Plasma Physics, Hefei Institutes of Physical Science.

In plasma research, plasma discharges at the gas-liquide contact areas always take place with a series of physicochemical reactions, which captures attentions for its potential application in related industries.

The medical research team took a closer look into those complex reactions.

They designed a gas-liquid phase air and oxygen plasma to selectively and controllably generate reactive species and efficiently inactivate bacteria in the liquid.

The team found the bactericidal effect of oxygen plasma direct treatment is better than air plasma direct treatment, while the indirect treatment has the opposite effect.

The types and contents of reactive groups in liquid-phase could be controlled by both changing the physical characteristics of plasma and choosing appropriate treatment methods.

This finding may shed new light on the high efficient but low energy-cost sterilization.

Formation of reactive species in liquid-phase by gas-liquidplasma (Image by SHEN Jie)
(Editor: ZHANG Nannan)
CAS researchers developed low-temperature plasma sterilization apparatus
Apr 05, 2004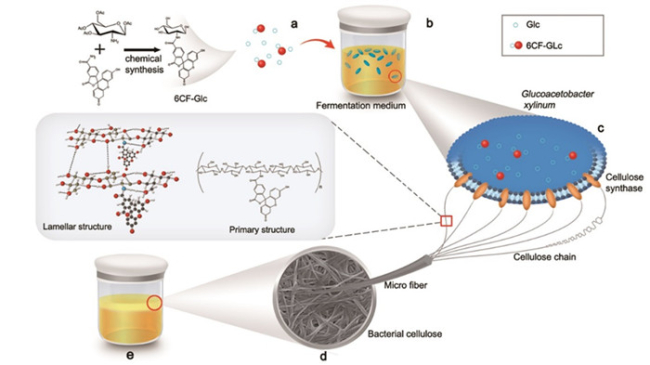 Scientists Use Microorganism to Fabricate Functional Bacterial Cellulose in situ
Jan 28, 2019
A research team led by Prof. XIAN Mo and ZHANG Haibo from the Qingdao Institute of Bioenergy and Bioprocess Technology developed a new method for bacterial cellulose functionalization. The method verified the feasibility of in situ synthesis of functio...

Chinese Researchers Use Bacteria to Remove Toxic Chemicals from Water
Jun 23, 2018
Escherichia coli, commonly known as E. coli, a bacteria that can cause severe food poisoning, diarrhea, and septicemia, could be useful in removing toxic chemicals from water, according to a new study by Chinese researchers. Researchers from Xinjiang I...