In a study published online in Molecular Cell, LOU Jizhong's group from Institute of Biophysics of Chinese Academy of Sciences and researchers from Zhenjiang University reported a novel dynamic structural mechanism of the antigen discrimination of T-cell receptors (TCR).
The antigen recognition by TCRs is central to adaptive immunity and potential "neoantigen" related T-cell immunotherapy. It has been demonstrated that TCR functions as a force sensor, that is, mechanical force-strengthened TCR-pMHC binding ("catch bonds") is essential to TCR antigen recognition.
However, traditional structural models failed to explain such dynamic mechano-chemical coupling process, preventing a comprehensive understanding on the intrinsic mechanism of TCR antigen recognition.
In this study, researchers discovered mechano-chemical coupling for TCRs to successfully recognize "foreign" antigens.
Guided by agonist peptide, mechanical force unexpectedly induces pMHC conformational changes in a step-wise manner to allosterically activate new interactions that were not found in crystal structures to elicit TCR-pMHC catch bonds in both mouse and human TCR systems.
More importantly, cancer associated mutations in HLA class I that restricted such conformational change significantly suppress TCR-pMHC catch bonds, implying that HLA's somatic mutations or even HLA genotypes (polymorphisms) along with TCR/pMHC catch bonds would be critical factors to be considered for effective T-cell based immunotherapy in future.
This study not only revealed a universal dynamic structural mechanism of mechano-chemical coupling for antigen recognitions by TCRs, but also had important clinical implications in T-cell based immunotherapies.
This work was supported by grants from Ministry of Science and Technology, National Natural Science Foundation of China, Chinese Academy of Sciences and Zhejiang University.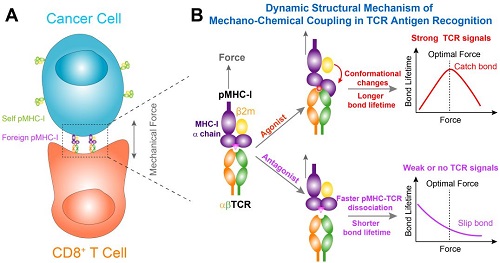 Figure: Mechanical forces induced MHC conformational change to discriminate foreign and self antigens (Imaged by Dr. Lou Jizhong's group)