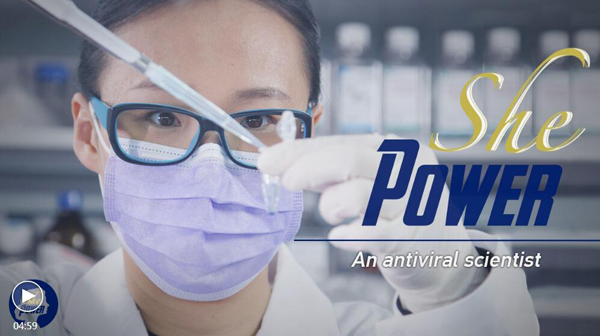 Amid the nationwide fight against COVID-19, female medical experts and workers have come to the limelight.
According to the data released by China's National Health Commission, by the end of February, at least 42,000 medical workers gathered in Wuhan, and among them, more than 60 percent were female workers. Most of them stood out for their expertise and professionalism.
Li Jing, an associate researcher of the Chinese Academy of Sciences, majored in microbiology and immunology. She talked to us about why she chose to become a scientist and how her career has shaped her.
2020 is the 11th year for Li to be working in virology, but her original dream was to become a forensic expert.
"Although I am working in virology related research, I wanted to apply for forensic medicine after the college entrance examination," Li said. "Because I'm more of an iron girl."
She explained that since childhood, she has always preferred television dramas based on reasoning than romantic features. Logic is clearly more attractive than sentiments, she said.
Unfortunately, only boys were selected for forensic medicine that year, so she turned to veterinary science.
"After I joined the institute, I was fascinated by research on influenza virus," Li told CGTN. She said she could apply what she learned at school to the fullest because influenza belongs to the zoonotic family.
Li said she is good at insisting on one thing as long as she believes it is her duty. As for scientific studies, it is not very easy to succeed. Most of the time, what's been waiting for her are numerous setbacks and failures.
"But the moment of seeing my article published or result achieved in my research, it cannot be traded with anything," Li said.
Li Jing said during her 11-year career experience, she gradually realized the importance of the harmonious coexistence with nature. She believes that is the thing all human beings need to reflect upon as the COVID-19 outbreak is brought under control.
"Even viruses are trying to survive by adapting to their hosts. Shouldn't we reflect on coexistence?" Li said.