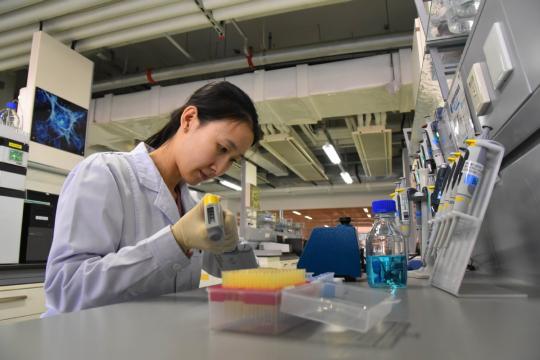 A technician carries out a test at a pharmaceutical company in Beijing. (Photo/Xinhua)
Breakthroughs in drug research and development in China last year saw a number of new drugs become available to patients, a report released on Monday said.
Of 39 major achievements in medicine in China last year, covering six areas including clinical medicine, basic medicine and public health, seven were related to pharmaceutical research and development - including the world's only new drug to treat Alzheimer's disease in the past 17 years - the report, released by the Chinese Academy of Medical Sciences, said.
The 39 achievements were selected by an evaluation committee comprising 197 top medical experts, including members of the Chinese Academy of Sciences and the Chinese Academy of Engineering, Wang Chen, president of Chinese Academy of Medical Sciences, said.
"China's global innovation index has been rising rapidly over the past few years, and scientific and technological development in China has increasingly become a more prominent force globally, including in medicine and life sciences," he said.
New drugs developed by Chinese companies that made it on to the list included Zanubrutinib, a capsule drug used to treat adult patients with mantle cell lymphoma, a rare cancer that lacks effective treatment.
The United States Food and Drug Administration announced in November that it had approved the drug, the first time that an innovative drug developed in the Chinese mainland had entered the US market. Many new drugs in the domestic market, including anti-cancer drugs, are developed overseas and exported to China.
Li Song, a medical chemist and a member of the Chinese Academy of Engineering, said the drug was a breakthrough that proved domestic developers had the ability to develop the same high-standard drugs as those in the US. He expects more similar new drugs will be developed by Chinese enterprises.
GV-971, another drug on the list released on Monday, is the world's first innovative therapy for the treatment of Alzheimer's disease in 17 years. It was approved by China's National Medical Products Administration in November, and went on sale in the domestic market last month.
The administration said the drug can improve cognition in patients with mild to moderate Alzheimer's disease, which is an incurable, irreversible and progressive brain disorder. There are at least 50 million Alzheimer's patients worldwide, including more than 10 million in China, and most of the drugs being researched all over the world to treat the disease have failed over past decades, experts said.
"China used to be called a big country in producing pharmaceuticals, but not a leading country in the pharmaceutical sector," Li said. "But now it is becoming a strong country in this area, and is transforming from a country which mainly produced generic drugs to a one that excels in innovative drugs." (China Daily)