A rescue team of Broadband Wireless Emergency Communication comprising 12 members from four CAS institutes was dispatched on April 16, to the earthquake-stricken Yushu County, Qinghai Province. They are from Shanghai Institute of Microsystem and Information Technology (SIMIT), Institute of Microelectronics (IME), Institute of Salt Lakes (ISL), and Northwest Institute of Plateau Biology (NWIPB) respectively.
The 2010 Yushu earthquake struck on April 14, 2010, and registered a magnitude of 6.9 (USGS, EMSC) or 7.1 (CENC, CEA). It originated in Yushu, Qinghai, China, at 7:49 am local time.
CAS Lanzhou Branch responded quickly to the disaster and organized an earthquake relief supervision group. A meeting was held in Xining to make detailed arrangement on the assignment tasks and logistical support for the rescue team.
ISL responded actively to CAS's instructions and set up a supervision group for the technological relief work. ISL staff assisted the team members from SIMIT and IME in preparing the formalities and supplies for entering the disaster area. ISL and NWIPB are rendering logistical and technical assistance in the assignment.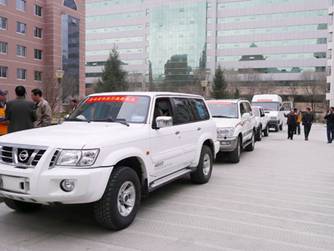 CAS's rescue team takes off (Picture/ISL)
To open earliest service, a first batch of team members, led by Prof. ZHEN Min, set off from Xining at 4:30 pm April 16, taking the instruments and gadgets to the disaster area. LI Hua, deputy director of Qinghai Science and Technology Department, also left with them. A second batch of the members was dispatched on the following day.
Upon the request of Qinghai Earthquake Relief Headquarter, the team is rendering service of Broadband Wireless Emergency Communication Commanding. They will guarantee smooth communications between the front base of relief commanding and Qinghai Earthquake Relief Headquarter. Meantime, they will offer the service to China International Search and Rescue Team.