Lotus (Nelumbo nucifera) is one of the top ten traditional Chinese famous flowers, which serves as a source of valuable ornamental plants. Flowers with bright color trend to be more attractive to consumers. However, the flower color of lotus easily fades after flowering, which reducing its ornamental quality.
Researchers led by Prof. YANG Mei from the Wuhan Botanical Garden of the Chinese Academy of Sciences (CAS) have recently investigated the petals form four developmental stages of 'Qiusanse' cultivar with an obvious rapid floral-color fading phenotype for RNA-sequencing to reveal the transcriptome profile of anthocyanin discoloration in lotus.
The researchers found a decreasing trend in the total anthocyanin content during lotus petal development. The petal discoloration resulted from a combined impact of reduced anthocyanin biosynthesis and its increased degradation.
Moreover, down-regulation of pathway structural genes by transcription factors, such as NnMYB5, caused the decrease in anthocyanin content. The observed increase in peroxidase activity during color fading revealed their potential role in regulating floral color change in lotus.
This study, for the first time, reveals the dynamic transcription process of lotus petal fading, and provides candidate genes and theoretical basis for improving the ornamental value of lotus.
Result have been published in Plant Physiology and Biochemistry entitled "Color fading in lotus (Nelumbo nucifera) petals is manipulated both by anthocyanin biosynthesis reduction and active degradation."
This work was funded by the National Natural Science Foundation of China, the Biological Resources Programme of CAS and the Key Research Program of Frontier Science of CAS.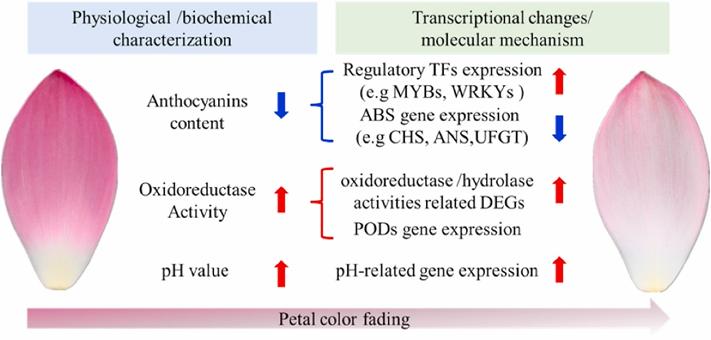 Proposed model of molecular mechanism underlying petal discoloration in lotus. (Image by WBG)