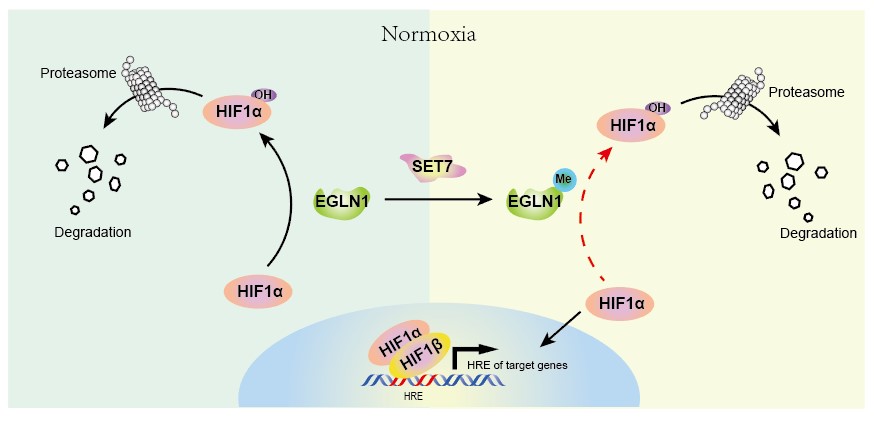 The working model of SET7-mediated methylation of EGLN1. (Image by IHB)
Under normoxia conditions, egg laying defective nine 1 (EGLN1), acting as an oxygen sensor, catalyzes prolyl hydroxylation of the transcription factor hypoxia-inducible factor-1 α (HIF1α), which results in its proteasomal degradation. Although EGLN1 plays a crucial role in the HIF-mediated hypoxia signaling pathway, the post-translational modifications that control EGLN1 function remain largely unknown.
A research group led by Prof. XIAO Wuhan from the Institute of Hydrobiology (IHB) of the Chinese Academy of Sciences identified that EGLN1 prolyl hydroxylation of hypoxia-induced transcription factor HIF1α is repressed by SET7-catalyzed lysine methylation. The study was published in the Journal of Biological Chemistry.
In this study, the researchers found that EGLN1 contains a SET7 targeting motif [(K/R) (S/T) K] in the catalytic domain (PH domain) of EGLN1. They also developed an antibody (anti-EGLN1-K297me1) to specifically recognize lysine 297 mono-methylation of EGLN1 and verified that SET7 interacts with EGLN1 to catalyze mono-methylation of EGLN1 on K297.
They then compared the prolyl hydroxylase activity of wildtype and the methylation-mimic mutant of EGLN1 (K297F), and confirmed that the prolyl hydroxylase activity of EGLN1 is attenuated by SET7-mediated methylation.
XIAO's team further analyzed the effect of methylation-mimic mutant of EGLN1 (K297F) on HIF1α-mediated hypoxia signaling and revealed that methylation of EGLN1 facilitates hypoxia adaptation, which might benefit cell proliferation.
This study discovers a novel modification of EGLN1 that is critical for inhibiting its enzymatic activity, and may benefit cellular adaptation to conditions of hypoxia.