A new species of Premna (Lamiaceae) has been found by researchers from the Wuhan Botanical Garden of the Chinese Academy of Sciences (CAS) and the National Museums of Kenya at the coastal forests of Kenya, Cha Simba area in Kilifi County.
In the course of fieldwork investigations in 2020 under the organization of National Museums of Kenya, Dr. Veronicah Mutele Ngumbau, graduated from the Wuhan Botanical Garden, collected an unusual Premna L. species from the coastal forests of Kenya, a woody climber, which looked different from other members of the genus found in East Africa.
After checking and comparing the collected plant with all known species found at the East Africa Herbarium, he found a similar specimen of the unusual Premna species collected from the same locality by a young botanist named Mwadime Nyange of the Museum in 2019. However, it was unnamed at that time.
Dr. Ngumbau and his doctoral supervisor, Prof. HU Guangwan conducted further comparative studies, and after consulting Postdoc LI Bo, a taxonomic expert on plants, they confirmed this plant a new species and named it Premna mwadimei V.M. Ngumbau & G.W. Hu.
Lamiaceae is the largest family of the order Lamiales, comprising more than 200 genera and 7,000 species in the world. They mainly distribute in Old World tropical and subtropical regions from Africa, Asia, Australia, and various islands in the Pacific and Indian Oceans. In East Africa, there are about 17 species with 10 species distributed in Kenyan floral regions.
Members of Premna are usually shrubs, trees or woody climbers; with leaves simple, opposite or in whorls of 3-4; cymes often terminal; flower small; calyx not obviously caccrescent in fruit; corolla tube short, lobes 4, spreading; stamens 4, usually didynamous; ovary 4-locular, ovules 1 per locule; fruit a small drupe, with fleshy mesocarp and a 4-locular pyrene.
The life form of this species is scandent shrub or liana, older stems with persisting thorns, not ridged and not corky, branchlets, petioles, and inflorescences densely golden-brown dendritic pubescent, inflorescence short cyme on lateral and terminal shoots, and calyx tubular, ca. 3 mm long, lobes broadly triangular, ca. 1 mm long, densely dark brown dendritic-pubescence. Those features suggest that the new species is distinctly different from related species of this genus and their species.
The result has been published on Phytotaxa entitle "Premna mwadimei (Lamiaceae), a new species from Cha Simba, a remnant of coastal forests of Kenya, East Africa".
This work was supported by grants from the International Partnership Program of CAS, the National Natural Science Foundation of China and the Sino-Africa Joint Research Center of CAS.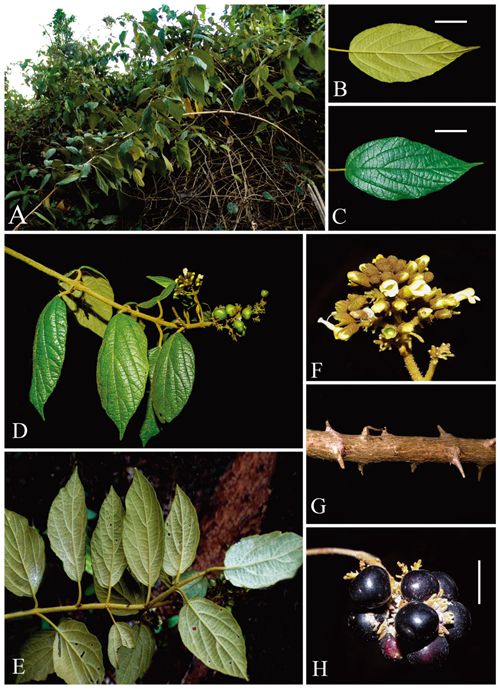 Premna mwadimei sp. nov. A. Habitat. B. Abaxial side of leaf blade. C. Adaxial side of leaf blade. D. Branch with fruits and flowers. E. Branch showing abaxial side of leaf and leaf arrangement. F. Inflorescence. G. Thorny stem. H. Ripe fruits. Scale bar: B & C = 2 cm, H = 7 mm. (Image by V .M. Ngumbau & Mwadime)