The flat peach was cultivated in China two thousand years ago and introduced to Western countries from China in the seventeenth century. Compared with most round peaches, flat peaches demonstrate special germplasm characteristics for multiple unique or high quality traits, such as sweet taste, low titratable acidity, very high sugar content and rich flavor soluble solids content. The high quality traits attract more and more interest from consumers and breeders. However, the reason why flat peach has a higher fruit quality remains unclear.
In order to reveal the potential reason for the good fruit flavor traits in flat peach, researchers from the Wuhan Botanical Garden and Anhui Academy of Agricultural Sciences sequenced the genome of one representative flat peach '124 Pan'.
The sequence data of '124 Pan' was compared with peach Prunus persica (Lovell) reference, and a large number of single nucleotide polymorphisms (SNPs), insertions or deletions of DNA segments (InDels), and structural variations (SVs) were discovered.
Furthermore, based on PacBio and Illumina reads, a draft assembly of 206 Mb genome of '124 Pan', with a N50 of 26.3 Mb containing eight chromosomes and seven scaffolds was assembled using a hybrid assembly algorithm. A total of 25,233 protein-coding genes were annotated.
The sequences of 572 single-copy genes in 13 species were concatenated, aligned, and used for phylogenetic tree construction. Combined with the establishment of divergence time, Prunus ferganensis was placed as the common ancestry of '124 Pan' and P. persica (Lovell) .
With Kyoto Encyclopedia of Genes and Genomes enrichment analysis, the gene family expansion encoding enzymes related to terpene biosysthesis was found, which might contributed to the fruit flavor for '124 Pan'. This study provides an extra reference for genomic variation mining and comparative studies in peach.
These findings were published online in Plants (Basel) entitled "The Draft Genome of a Flat Peach (Prunus persica L. cv. '124 Pan') Provides Insights into Its Good Fruit Flavor Traits". This study was financially supported by the National Natural Science Foundation of China.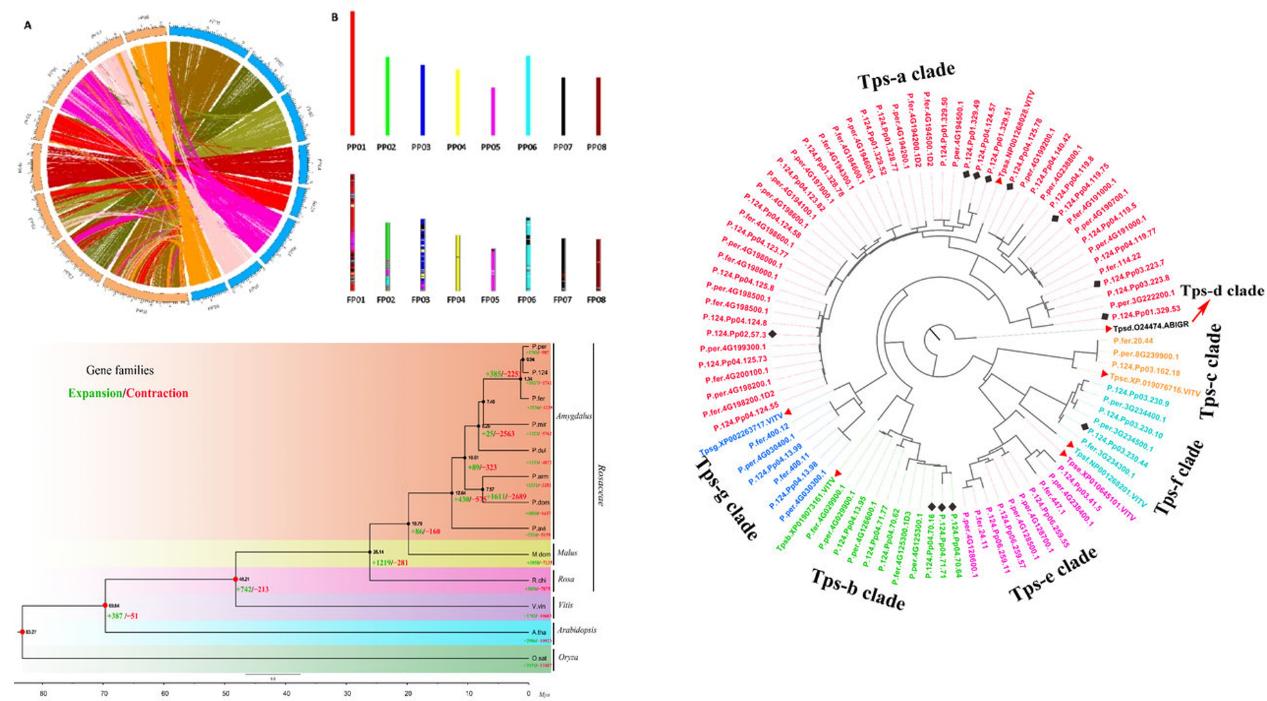 Comparative analyses of genomes between P. persica (Lovell) and '124 Pan' (left), and phylogenetic tree of the TPSs family from '124 Pan' and representative plants (right) (Image by ZHANG Aidi)