Chinese tallow, due to its vibrant of the autumn colors, is one of the essential commercial trees widely planted in China. However, the coloration effect of the Chinese tallow leaves is not as good as expected with changes of the environment.
A research team led by Prof. WU Lifang from the Institute of Intelligent Machines, Hefei Institutes of Physical Science (HFIPS) investigated the genetic regulation of red pigment formation in Chinese tallow leaves and identified an R2R3-MYB transcription factor SsMYB1 that positively regulates anthocyanin biosynthesis and determines leaf color in Chinese tallow.
The researchers found that the anthocyanin content of Chinese tallow leaves was dependent on the expression of SsMYB1. Overexpression of the SsMYB1 in Arabidopsis showed higher anthocyanin contents, whereas silence of SsMYB1 significantly reduced its accumulation.
"The basic helix-loop-helix protein SsbHLH1 worked as a putative SsMYB1 co-regulator here. It directly interacted with SsMYB1 to regulate the anthocyanin biosynthetic pathway," said CHEN Xue, a researcher in the team.
They also discovered that, compared with SsMYB1 alone, tobacco leaves transient overexpressing SsMYB1 and SsbHLH1 showed deeper red pigmentation. It proved that SsbHLH1 physically interacted with SsMYB1 to enhance anthocyanin biosynthesis.
"After binding to the promoters of SsDFR1 and SsANS, SsMYB1 activated anthocyanin biosynthesis and promoted their transcription activity, which can be further enhanced by SsbHLH1," said CHEN Xue.
The identification and characterization of novel regulatory genes for leaf coloration in Chinese tallow paved an avenue for the cultivation of new varieties.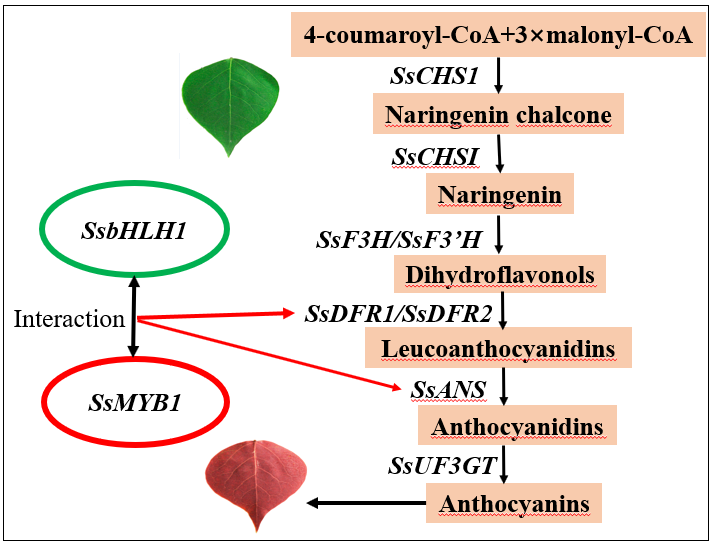 The R2R3-MYB transcription factor SsMYB1 positively regulates anthocyanin biosynthesis and determines leaf color in Chinese tallow (Sapium sebiferum Roxb.) (Image by CHEN Xue)