Family Cactaceae is almost endemic to the New World except for the epiphytic Rhipsalis baccifera. Stearn, which is found naturally occurring in both the New and the Old Worlds, has drawn the attention of most researchers. However, there is still insufficient molecular work on R. baccifera and also so far, there is no work on the complete chloroplast genome analysis of this species.
The Flora and Plant Taxonomy in Eastern Africa Research Group from the Wuhan Botanical Garden of the Chinese Academy of Sciences analyzed for the first time the complete chloroplast genomes of R. baccifera collected from Kasigau forest, Kenya.
The complete chloroplast genome of R. baccifera has a total length of 122,333 base pairs (bp) in size. It displays a typical quadripartite structure with a large single-copy (LSC) region of 81,459 bp in length, separated from the small single-copy (SSC) region of 23,531 bp, by two inverted repeat regions both 8,530 bp long. The genome contains 110 genes, with 73 protein-coding genes, 31 tRNAs, four rRNAs and two pseudogenes.
Comparative analysis with eight species of the ACPT (Anacampserotaceae, Cactaceae, Portulacaceae, and Talinaceae) clade of the suborder Portulacineae species reveals an unique inversion and rearrangement only observed in R. baccifera at the LSC region for the first time, representing the most significant structural change in terms of its size.
Inversion of the SSC region seems common in subfamily Cactoideae, and another 6 kb gene inversion between rbcL- trnM is observed in R. baccifera and Carnegiea gigantea.
The phylogenetic analysis involving 36 species of the order of Caryophyllales and two outgroups supports monophyly of the families of the ACPT clade. R. baccifera occupies a basal position in the clade formed by Cactaceae species. A high number of rearrangements in this cp genome suggest a larger number of mutation events in the history of evolution of R. baccifera.
These results provide important tools for future work on R. baccifera and in the evolutionary studies of the suborder Portulacineae.
The research entitled "Complete Chloroplast Genome of Rhipsalis baccifera, the only Cactus with Natural Distribution in the Old World: Genome Rearrangement, Intron Gain and Loss, and Implications for Phylogenetic Studies" was published in Plants.
This work was supported by the National Natural Science Foundation of China and the Sino-Africa Joint Research Center of CAS.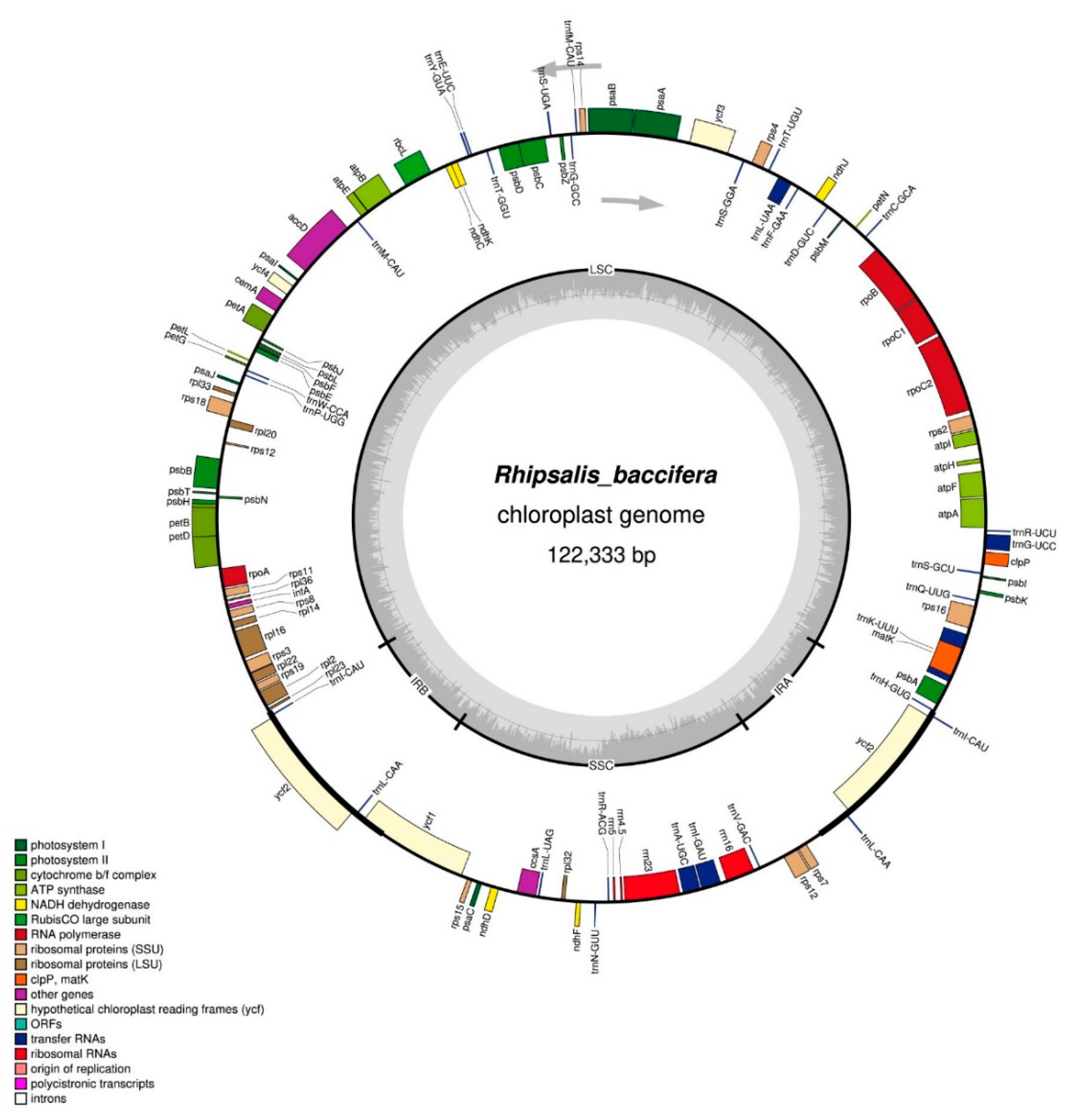 Complete chloroplast genome of Rhipsalis baccifera (Image by WBG)