Oplegnathus fasciatus is an important fishery species in offshore cage aquaculture and fish stocking for marine ranching in East Asia.
The male O. fasciatus genome was characterized by an X1X2Y system with a neo-Y chromosome based on male karyotype analyses. The species could be used as an excellent model to address the sex determination, origin and evolution of the X1X2Y system.
Researchers from the Institute of Oceanology of the Chinese Academy of Sciences and their collaborator from Costa Rica demonstrated the origin of neo-Y chromosome in the X1X2Y system of male O. fasciatus for the first time. Their findings were published in iScience.
Approximately 37 cases of multiple sex chromosomes with X1X1X2X2/X1X2Y system have been reported across the teleost phylogeny in the world.
However, adequate genome resources to support more comprehensive descriptions of the multiple sex chromosome system and the origin of the large metacentric Y chromosome of male O. fasciatus have been lacking.
In order to accurately reveal the origin of neo-Y chromosome, the research team firstly obtained chromosome-level reference genomes of the female and male O. fasciatus.
Then they demonstrated for the first time that the X1X2Y system of male O. fasciatus originated from the centric fusions of the acrocentric chromosomes Ch8 and Ch10 via significant homology and chromosomal interactions at the genome level.
Cross-chromosome synteny was also identified between the male Ch9 of O. fasciatus and the Ch5/Ch6 of O. latipes genome, which exhibited excellent synteny with female Ch8 and Ch10 of O. fasciatus. These results showed that chromosome rearrangements events have occurred in the neo-chromosome Ch9 of male O. fasciatus.
Approximately 172 male-specific genes were identified in the male Ch9. And some male-specific genes involved in chromosome and nucleosome assembly and steroid hormone synthesis were identified in the study, which might be responsible for the fidelity of homologous chromosome pairing between Ch9 and Ch8/Ch10 during meiotic prophase and male sex determination.
This study not only provides a solid foundation for further sex-determining mechanism research in the X1X2Y system, but also facilitates the artificial breeding aiming to improve the yield and disease resistance for Oplegnathus.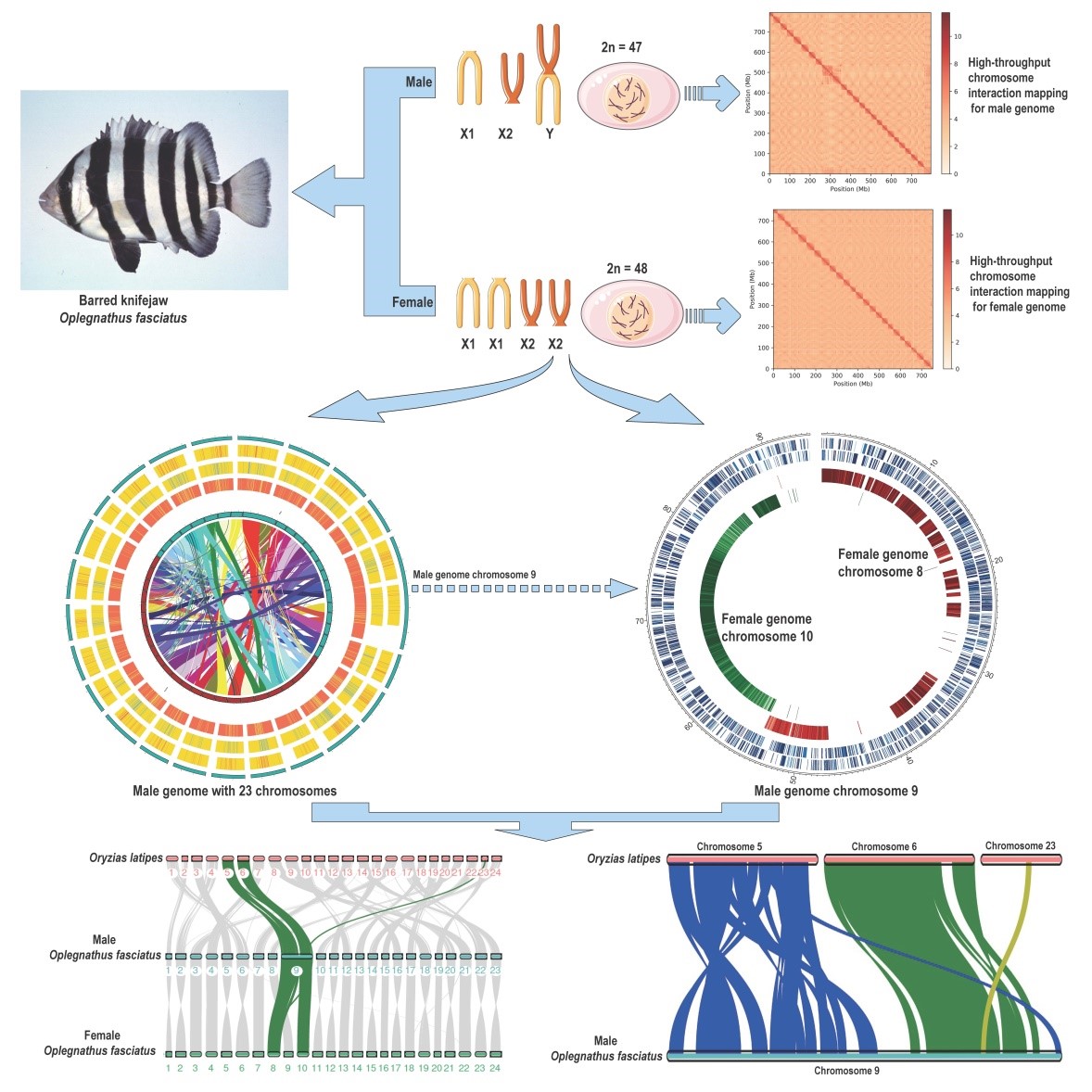 Identification of the origin of neo-Y chromosome to the X1X2Y system (Image by IOCAS)