Genes could be duplicated through multiple mechanisms, including whole-genome duplication (WGD), tandem duplication and retrotransposition.
WGD doubles the entire genome which is a major source of gene duplication. It has been suggested that the retention of the duplicates from WGD were biased towards certain functional classes of genes. Especially for that genes encoding subunits of protein complexes tend to be co-retained after WGD to balance the dosage of each subunit.
Previous studies have proposed the Dosage Balance Hypothesis (DBH) to explain the mode of biased gene retention after WGD. This hypothesis states that the stoichiometric differences among members of macromolecular complexes affect the function of the whole complex, eventually leading to phenotypic effects.
However, small-scale duplications could independently occur in the connected gene families. Certain evolutionary strategies might keep the dosage balanced.
In a recent study published online in New Phytologist, scientists from the Institute of Botany of the Chinese Academy of Sciences selected two interacting proteins, Calcineurin B-Like (CBL) and CBL-interacting protein kinase (CIPK), as a case study.
They found that retrotransposition, tandem duplication and polyploidization all have contributed to the expansion of both families. This seems to be in conflict with the previously proposed DBH.
How does the CBL-CIPK complex maintain the balance among its subcomponents? They further investigated the interaction and expression patterns of the two gene families in Arabidopsis. They revealed that the highly specific interaction, together with the differential gene expression pattern, jointly maintained the balanced dosage for the interacting CBL and CIPK proteins.
This study provided new insights into the evolutionary strategies that drive a balanced dosage for interacting proteins.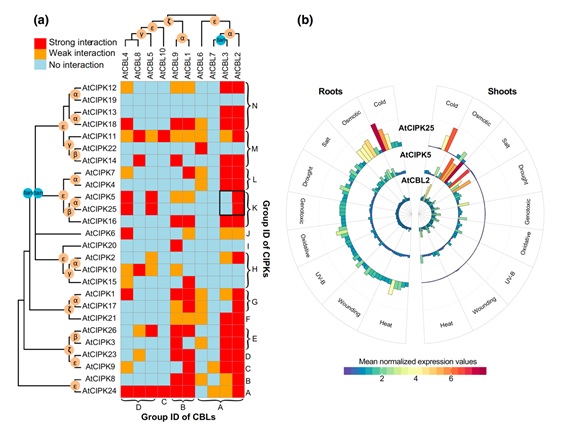 Evolutionary history of the calcineurin B-like (CBL) and CBL-interacting protein kinase (CIPK) families in Arabidopsis and their interaction and expression patterns (Image by IBCAS)