A research team led by Prof. CHEN Liang from the Shenzhen Institutes of Advanced Technology (SIAT) of the Chinese Academy of Sciences has identified a novel oncoprotein, TRIM (Tripartite Motif Family Protein) 25, an endoplasmic reticulum(ER) stress sensor that plays an important role in the development of breast cancer.
This newly found oncoprotein could help scientists develop potential targets and new ideas for early diagnosis and clinical treatment of breast cancer in the future.
Although the 5-year survival rate after surgery of early breast cancer is up to 80%, the overall survival rate is not optimistic due to the recurrence and lung metastasis. At present, targeted therapy is considered to be a good way to solve this problem. Thus, searching and identifying crucial genes linked to breast cancer is still the key point.
So far, regulating the endoplasmic reticulum stress is still a new mechanism for the growth and progression of breast cancer. Whereas, how tumor cells have evolved coordinated signaling networks to sustain endoplasmic reticulum protein homeostasis, and further promoting tumor survival and progression, is still unclear.
Previous researches have revealed that TRIM family members are closely related to tumorigenesis.
By evaluation of the whole TRIM family members during endoplasmic reticulum stress, CHEN's team identified that TRIM25 was significantly induced during ER stress and it negatively regulated UPR (unfolded protein reaction) pathways, especially the downstream JNK(c-Jun N-terminal kinase) signaling pathway.
Besides, the expression levels of TRIM25 were remarkably unregulated in breast cancer tissues. Elevated TRIM25 expression level in breast cancer correlates with poor patients' survival.
These findings suggest that TRIM25 is closely correlated with the occurrence and development of breast cancer, and further investigations and experiments are still needed.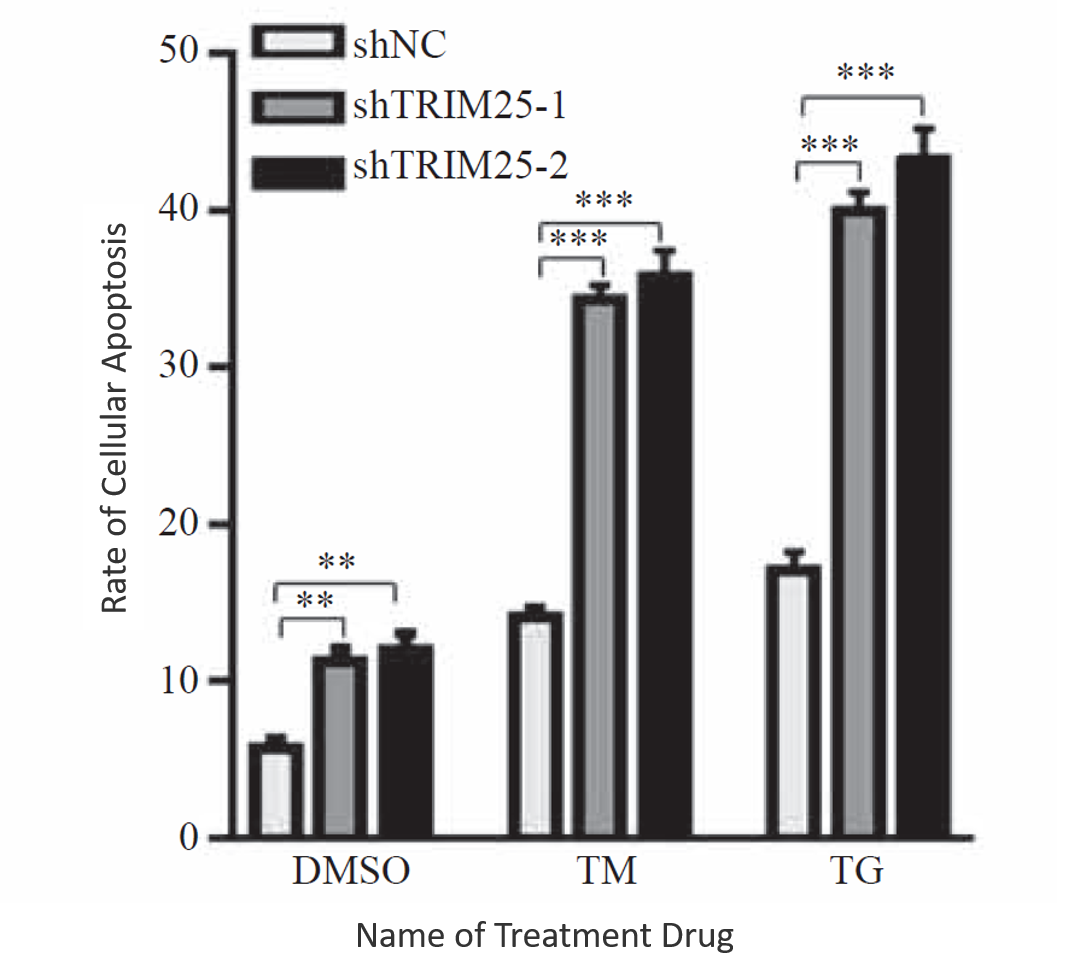 Effects of TRIM25 knockdown on endoplasmic reticulum stress induced cell apoptosis. (Image by Prof. CHEN Liang's group)