Circular RNAs (circRNAs) produced from back-splicing of exon(s) are completely overlapped with their cognate linear RNAs in sequences, except back-splicing junction (BSJ) sites.
Transcriptome-wide profiling and quantification of circRNAs from RNA-seq datasets is generally based on the detection of RNA-seq fragments spanning BSJ sites, while quantification of linear RNA expression relies on fragments mapped to whole gene bodies. In this scenario, direct comparison of circular and cognate linear RNA expression from the same gene loci has remained challenging.
In a study published online in Genomics, Proteomics & Bioinformatics, a group led by Dr. YANG Li from CAS-MPG Partner Institute for Computational Biology, Shanghai Institute of Nutrition and Health of the Chinese Academy of Sciences and the collaborators reported an integrated toolkit for direct circular and linear RNA expression analysis from ribosomal-RNA depleted RNA-seq (CIRCexplorer3-CLEAR) updated from the previously-reported CIRCexplorer pipeline.
To evaluate circular and linear RNA expression in a comparative way, the researchers developed a new quantitation parameter, fragments per billion mapped bases (FPB).
They used fragments mapped to circRNA-specific BSJ sites to calculate FPBcirc and applied those aligned to linear RNA-specific splicing junction (SJ) sites to calculate FPBlinear. CIRCscore, which is dividing FPBcirc by FPBlinear, is defined to show relative circRNA expression normalized by cognate linear RNA expression.
Importantly, FPB value is more resistant to different sequencing lengths and strategies than commonly-used fragments per million mapped fragments (FPM) for circular RNAs.
Moreover, using CIRCscore to evaluate circRNA expression can further reduce differences that are caused by RNA-seq samples themselves.
Taken together, the CIRCexplorer3-CLEAR pipeline is an accurate and robust method for circRNA quantification and can be applied for selection of highly expressed circRNAs relative to cognate linear RNAs for downstream circRNA analysis.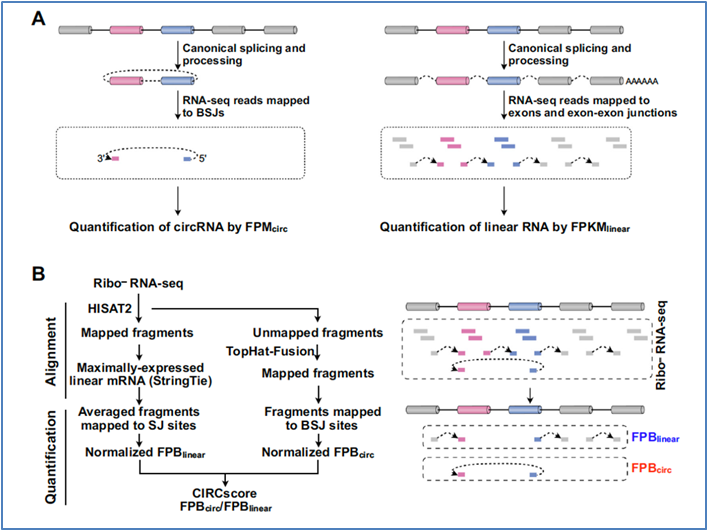 New CIRCexplorer3-CLEAR pipeline for direct circular RNA and linear RNA expression comparison (Image by Dr. YANG Li's group)