Carotenoids are yellow to red pigments synthesized by all photosynthetic organisms. Lutein, β-carotene, and zeaxanthin are essential carotenoids for human health, serving as provitamin A or retina pigments. Human and animals have to obtain these carotenoids from their diets.
In contrast to lutein and β-carotene that can derive from marigold flowers and the green alga Dunelialla salina respectively on large scales, no commercial sources of natural zeaxanthin are available up to date.
Recently, the research team led by professor HUANG Junchao from Kunming Institute of Botany, Chinese Academy of Sciences (KIB/CAS) isolated a generally recognized as safe (GRAS) and carotenoid-producing bacterium, Sphingobium sp..
This GRAS bacterium was exploited as a cell factory for high-yield production of zeaxanthin. First, whole-genome sequencing and analysis of pathway genes were applied to define the carotenoid pathway in Sphingobium sp.. Second, a Sphingobium transformation system was established to engineer metabolite flux into zeaxanthin.
By a combination of chemical mutagenesis and removal of bottlenecks of carotenoid biosynthesis via overexpression of three rate-limiting enzymes, they developed a genetically modified Sphingobium strain named DIZ, which could produce 21.26 mg/g DCW of zeaxanthin, about 4-fold higher than the WT strain.
Furthermore, after optimization of culture conditions, the DIZ strain produced 479.5 mg/L of zeaxanthin with the productivity of 4.99 mg/L/h and 21.9 g/L of exopolysaccharides using a fed-batch fermentation strategy.
This study represents the first genetic manipulation of Sphingobium sp., a biotechnologically important bacterium, for high-yield production of value-added metabolites.
The results were published in Journal of Agricultural and Food Chemistry with the title "Enhanced coproduction of cell-bound zeaxanthin and secreted exopolysaccharides by Sphingobium sp. via metabolic engineering and optimized fermentation".
This study was funded by a research grant from Yunnan Key Laboratory for Wild Plant Resources.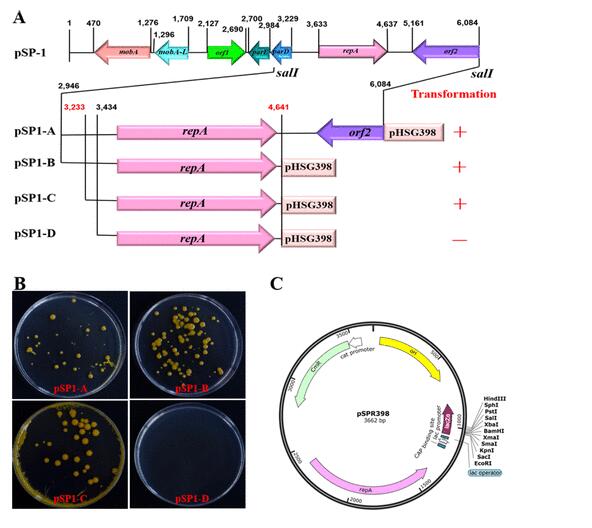 Figure 1. Endogenous plasmid and its derivatives used for engineering Sphingobium sp. KIB. (A) Structures of plasmid pSP-1 from Sphingobium sp. KIB and its derivatives. (B) Transformants of Sphingobium sp. KIB harboring various derivatives of truncated pSP-1. (C) Established E. coli–Sphingobium sp. shuttle plasmid pSPR398. (Image by KIB)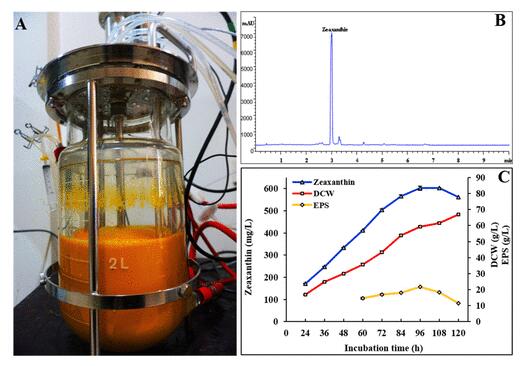 Figure 2. Fed-batch fermentation of the engineered DIZ strain for the production of zeaxanthin and EPS. (A) Fermentation broth in a bioreactor at 120 h. (B) UPLC profile of the carotenoids extracted from the fermented DIZ strain at 120 h. (C) DCW and production of zeaxanthin and EPS of the engineered DIZ.
(Image by KIB)