The genus Cuscuta (common name dodder; Convolvulaceae) consists of about 200 species, which are stem parasites. Cuscuta parasites have no roots or leaves and their stems coil around host shoots to form haustoria.
In nature, Cuscuta often simultaneously parasitizes multiple neighboring plants, forming dodder-connected plant clusters.
Salt stress is a common abiotic stress for plants. Whether dodder transmits physiologically relevant salt stress-induced systemic signals among the hosts and whether these systemic signals affect host tolerance to salt stress were unclear.
Recently, the team of Dr. WU Jianqiang at the Kunming Institute of Botany of the Chinese Academy of Sciences (KIB/CAS), explored the physiological function of salt-induced systemic signals among dodder-connected hosts.
The research team choses Cuscuta Campestris and cucumber plants to form cucumber~dodder~cucumber plant clusters and found that salt treatment on one host highly primed the other connected host, which showed a similar transcriptome profile as the other salt-treated host plant.
Furthermore, compared with the salt-treated host plant, the other non-salt-treated host plant, which received salt-induced systemic signals, exhibited greater proline content and photosynthetic rate.
Under long-term salt stress, the primed host plants were much more salt tolerant than the control plants, which did not receive the dodder-transmitted mobile signals.
This study reveals that dodder can transfer abiotic-induced systemic signals among host plants, and these inter-species mobile signals are able to prime plants for enhanced stress tolerance.
This study provides new insight into the function of dodder in mediating plant-plant interactions.
This paper "Dodder-transmitted mobile signals prime host plants for enhanced salt tolerance" was very recently published online in the Journal of Experimental Botany.
The research was supported by the National Natural Science Foundation of China and the International Cooperation Program of the Chinese Academy of Sciences.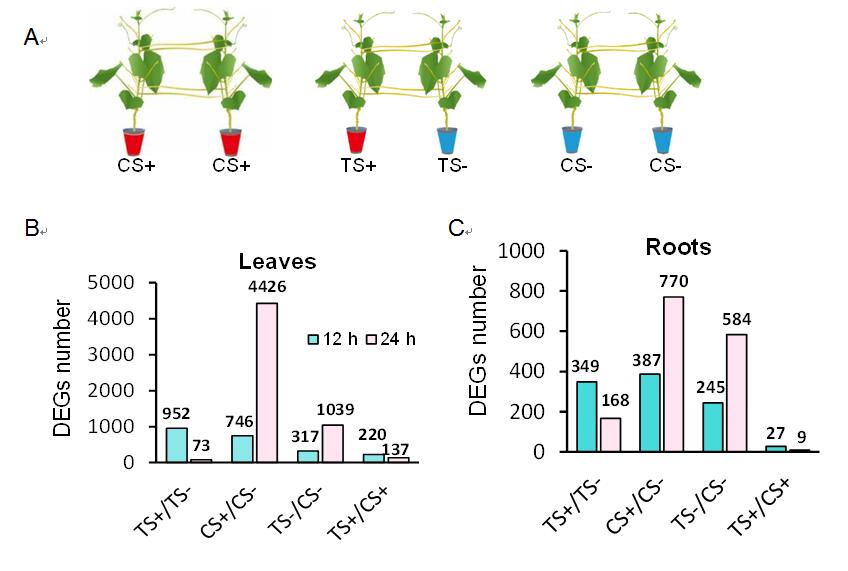 Salt stress induces large transcriptomic reconfigurations in dodder-connected hosts. (Image by WU Jianqiang)
Dodder-mediated mobile signals prime hosts for enhanced salt tolerance. (Image by WU Jianqiang)