Most current protein aggregation sensors focus on amyloid proteins for their well-defined β-sheet stacked structure. Intracellular amorphous protein aggregation with random and indefinite structure is usually envisioned to be untargetable or undruggable by small molecule probes.
Recently, Prof. LIU Yu's group and Prof. PIAO Hailong's group from the Dalian Institute of Chemical Physics (DICP) of the Chinese Academy of Science (CAS), in collaboration with Prof. LIU Xiaojing from Shandong University, designed amorphous protein aggregation sensors from aggregation induced emission probes (AIEgens), and systematically investigated the structure-fluorescence relationship to dissect structural moieties.
This study was published in Angewandte Chemie International Edition on May 14.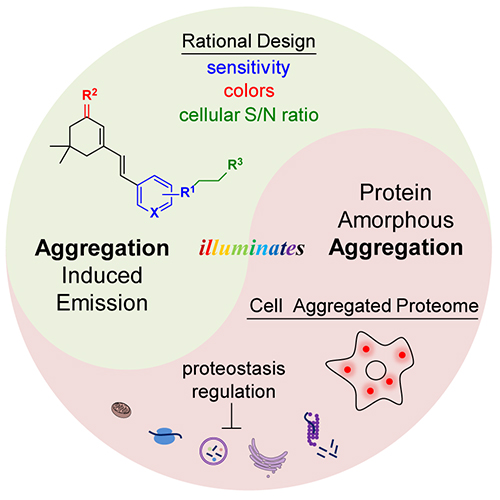 Rational design of crystallization induced emission probes to detect amorphous protein aggregation in live cells (Image by SHEN Di)
This sensor achieved the selective detection via its inherent binding affinity towards amorphous aggregated proteins. Due to the low-polarity and high-viscosity microenvironment inside aggregated proteins, the environment-sensitive sensor turned on its fluorescence upon binding these aggregated proteins.
"This work may provide a new strategy for further design of imaging sensors, proteomics probes, and therapeutic reagents for amorphous aggregated protein," said Prof. LIU.
This work was supported by the National Natural Science Foundation of China, Liaoning Revitalization Talents Program, China Postdoctoral Science Foundation Grant, and Dalian Innovation Fund.