The increase in electrical conductivity with increasing temperature is an inherent law of semiconductors. If the semiconductor's conductivity drops sharply at high temperatures, interesting new applications can be created, such as overload and over-temperature protection for the circuit.
In a study published in Angew.Chem.Int.Ed., a research group led by Prof. GUO Guocong and Prof. WANG Mingsheng from Fujian Institute of Research on the Structure of Matter (FJIRSM) of the Chinese Academy of Sciences reported a T-type photochromic semiconductor material which achieved a decreasing of conductivity under high temperature (100 °C).
The photochromic material can be transformed between two forms (A and B) having different absorption spectra, which are accompanied by changes in properties such as conductivity. When the fading process (B→A) is caused by heat, such photochromic materials are referred to as T-type photochromic materials.
Researchers found that this T-type photochromic material increase the conductivity during the process of coloration (process 1, A→B), and then increase the conductivity as the temperature increases during the heating process (process 2, B→B').
The conductivity of sample decrease while maintaining the temperature (process 3, B' → A'), and finally the sample is cooled back to room temperature (process 4, A'→A).
T-type photochromic semiconductor, (H2bipy)(

Hox)2 (H2bipy = 4,4'-bipyridin-1,1'-dium; ox = oxalate), had delocalized organic π-aggregates. The electron transfer from Hox to the delocalized organic π-aggregates can increase the electron coupling interaction between the π-aggregates and increase the density of the electronic states at the valence band, which lead to enhance the conductivity.
Besides, researchers revealed that (H2bipy)(Hox)2 has a phenomenon of thermal fading.
This T-type photochromic semiconductor material achieves a semiconductor electrical conductivity reduction of 81% under high temperature conditions (100 ° C), breaking the positively relationship between the conductivity and temperature of semiconductors.
In this process, the fading dynamics mechanism of photochromic materials was first explored by using electrical methods, and at least two different electron transfer pathways in the decoloration process.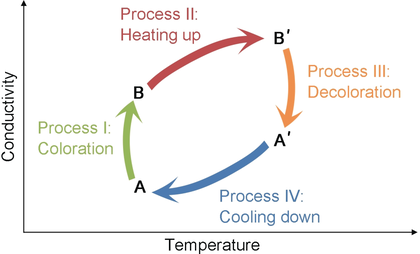 Schematic illustration of the strategy (Image by Prof. GUO's group)