To do that, they searched the STAR data from gold-gold collisions for pairs of antiprotons that were close enough to interact as they emerged from the fireball of the original collision.
"We see lots of protons, the basic building blocks of conventional atoms, coming out, and we see almost equal numbers of antiprotons," said Zhengqiao Zhang, a graduate student in Professor Yu-Gang Ma's group from the Shanghai Institute of Applied Physics of the Chinese Academy of Sciences, who works under the guidance of Tang when at Brookhaven. "The antiprotons look just like familiar protons, but because they are antimatter, they have a negative charge instead of positive, so they curve the opposite way in the magnetic field of the detector."
"By looking at those that strike near one another on the detector, we can measure correlations in certain properties that give us insight into the force between pairs of antiprotons, including its strength and the range over which it acts," he added.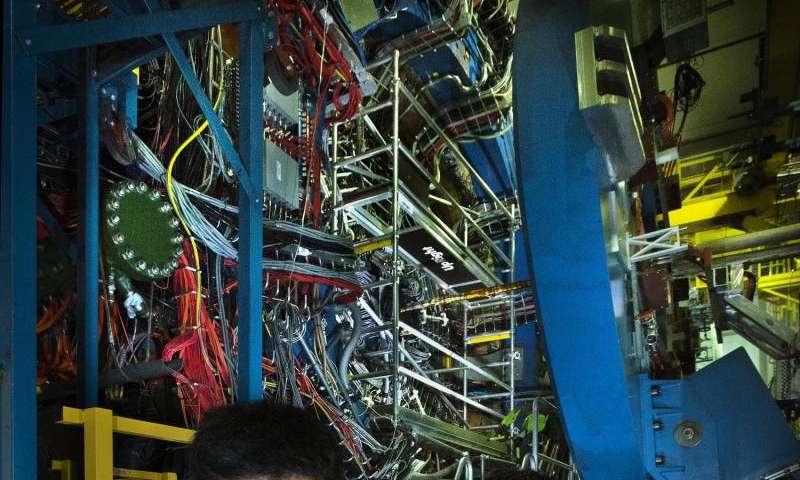 Zhengqiao Zhang, a graduate student from the Shanghai Institute of Applied Physics, with STAR physicist Aihong Tang at the STAR detector of the Relativistic Heavy Ion Collider (RHIC). Credit: Brookhaven National Laboratory
The scientists found that the force between antiproton pairs is attractive, just like the strong nuclear force that holds ordinary atoms together. Considering they'd already discovered bound states of antiprotons and antineutrons-those antimatter nuclei-this wasn't all that surprising. When the antiprotons are close together, the strong force interaction overcomes the tendency of the like (negatively) charged particles to repel one another in the same way it allows positively charged protons to bind to one another within the nuclei of ordinary atoms.
In fact, the measurements show no difference between matter and antimatter in the way the strong force behaves. That is, within the accuracy of these measurements, matter and antimatter appear to be perfectly symmetric. That means, at least with the precision the scientists were able to achieve, there doesn't appear to be some asymmetric quirk of the strong force that can account for the continuing existence of matter in the universe and the scarcity of antimatter today.
But the scientists point out that we wouldn't know that if they hadn't done these experiments.
"There are many ways to test for matter/antimatter asymmetry, and there are more precise tests, but in addition to precision, it's important to test it in qualitatively different ways. This experiment was a qualitatively new test," said Richard Lednicky, a STAR scientist from the Joint Institute for Nuclear Research, Dubna, and the Institute of Physics, Czech Academy of Sciences, Prague.
"The successful implementation of the technique used in this analysis opens an exciting possibility for exploring details of the strong interaction between other abundantly produced particle species," he said, noting that RHIC and the Large Hadron Collider (LHC) are ideally suited for these measurements, which are difficult to assess by other means. (Phys.org)