China-Thailand Joint Research Institute on Medicine Launched in Bangkok
Aug 12, 2019 Email"> PrintText Size


The opening ceremony of the China-Thailand Joint Research Institute of Natural Medicine was held on Thursday night to promote cooperation on natural medicine research, training between the two countries.

The research institute was jointly set up by four organizations from both countries, namely Chulabhorn Royal Academy, Shanghai University of Traditional Chinese Medicine (SHUTCM), Shanghai Institute of Organic Chemistry (SIOC) of Chinese Academy of Sciences(CAS) and CAS Bangkok Innovation Cooperation Center.

Prof. Dr. Her Royal Highness Princess Chulabhorn Krom Phra Srisavangavadhana attended the opening ceremony and she was named Honorary President of the the institute while Prof. Lin Guoqiang of CAS and Prof. Nithi Mahanonda, secretary general of Chulabhorn Royal Academy were named co-presidents.

Lin and Nithi both spoke highly of Princess Chulabhorn's contribution to the cooperation between China and Thailand and they hailed the establishment of the joint research institute as new achievement of cooperation.

Lyu Jian, Chinese ambassador to Thailand, described the institute in his speech as the first high-level cooperation on joint research, development, technical cooperation and industrial docking of natural medicines.

He noted that China's natural medicine field should actively join all-round cooperations with other countries to contribute to the implementation of China-ASEAN Innovation Community and the health of mankind.

According to organizers, the institute, with its secretariat set up at CAS Bangkok Innovation Cooperation Center, is to gather advanced technology of both China and Thailand to promote in-depth and all-around cooperation on natural medicine research, human resource development, etc. to benefit the two peoples.

SHUTCM vice president Chen Hongzhuan, Nithi of Chulabhorn Royal Academy, SIOC deputy director Yu Biao and CAS Bangkok Innovation Cooperation Center's director Jiang Biao also signed terms of reference of China-Thailand Natural Medicine Joint Research Institute during the opening ceremony. (Xinhua)
(Editor: CHEN Na)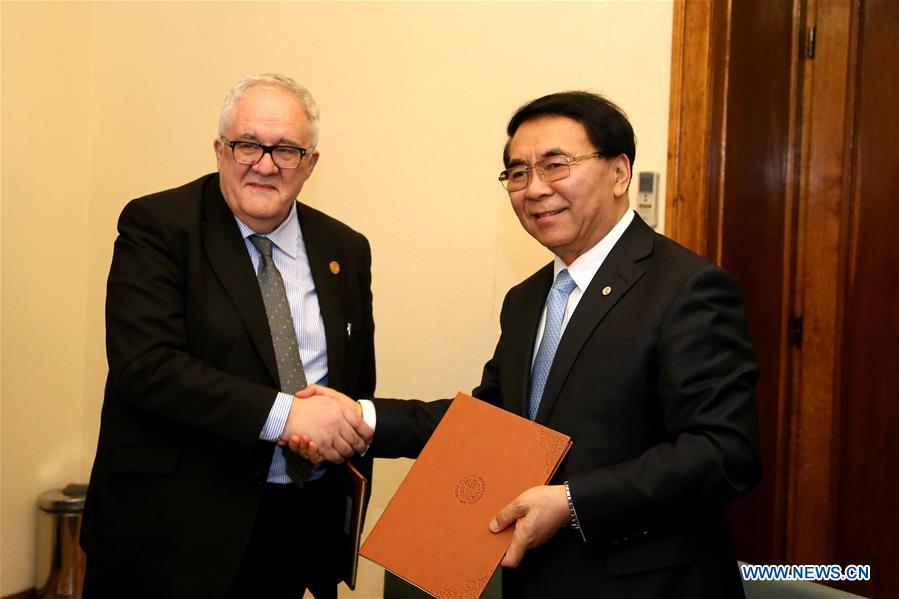 Academies of Serbia, China Agree to Boost Exchange of Scientists and Experts
Mar 28, 2019
Chinese Academy of Sciences (CAS) and Serbian Academy of Sciences and Arts (SANU) on Wednesday signed a cooperation agreement which will enable them to exchange young scientists and experts and strengthen academic cooperation between China and Serbia.

Chinese Academy of Sciences to Strengthen International Cooperation
Feb 11, 2019
The Chinese Academy of Sciences (CAS) has said it will enhance its internationalization strategy through international collaborative science projects and gathering international high-level talent. Zhang Yaping, vice president of CAS, said the academy h...

UChicago Forms Research Collaboration with Chinese University
Jan 18, 2019
The Energy Policy Institute at the University of Chicago (EPIC) has forged a 5-year research collaboration with the University of Chinese Academy of Sciences (UCAS). The five-year collaboration aims to generate fresh insights into pressing energy and e...