Chinese Scientists Launch Program to Tackle Glacier Melting on Tibetan Plateau
Jul 16, 2019 Email"> PrintText Size


Chinese scientists have launched the "Third Pole Environment program" at an international workshop in Beijing in a bid to combat environmental changes taking place in the Qinghai-Tibet Plateau.

Over the past 100 years, the Third Pole region, also known as the Water Tower of Asia, has experienced the warmest period in the past two millennia, with the peak occurring in the past 30 years, according to data, said Yao Tandong, a professor with the Institute of Tibetan Plateau Research, Chinese Academy of Sciences, the Science and Technology Daily reported on Monday.

The Third Pole is a high-altitude region covering the Qinghai-Tibet Plateau and surrounding areas, extending over 5 million square kilometers, and is the source of many Asian rivers including the Yangtze, Yellow, Indus and Yarlung Zangbo.

Researchers predict that the temperature at the Third Pole may rise by 4 C in the 21st century, according to data released at an international workshop on the Water Tower.

"The warming climate has caused an imbalance in ratio between water, ice and water vapor, leading to catastrophic consequences caused by glacial lake outbursts and landslides," Yao said. In some places, expansion of lakes might result in the inundation of grasslands and increase in river runoff, threatening the downstream ecology, while other places might run out of water due to glaciers melting, and oases in arid regions such as the Hexi Corridor and the Qaidam Basin might be difficult to sustain, he elaborated.

"We will estimate the changes in the Asian water tower in a comprehensive context, and prepare for the worst scenario," Yao said.

Three working groups have been set up to address the issue. Chinese scientists are working with foreign peers to focus on water, ecology and human activities, and conduct research via observation, simulation and impact assessment, the report said.

The research aims to develop a solid foundation for international cooperation, Yao said.

This year's workshop focused on local water resources, ecosystem and human activities. Scientists from different countries shared their observations, addressed the local impact and provided scientific advice to policymakers. (Global Times)
(Editor: LI Yuan)
Water Tower of Central Asia Keeps Shrinking: Study
Jan 16, 2017
Total water storage in Central Asia has been decreasing in the last half century due to accelerating glacier melting caused by global warming, a research led by professor CHEN Yaning from the Chinese Academy of Sciences' Xinjiang Institute of Ecology ...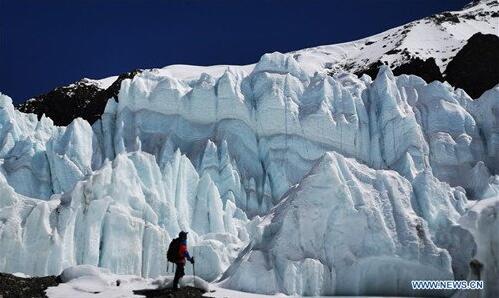 6 Tibetan Scientists Join CAS Research on Qomolangma
May 17, 2019
Six researchers from Southwest China's Tibet Autonomous Region have joined a team from the Chinese Academy of Sciences (CAS) to arrive at the Qomolangma, also known as Everest, Base Camp to carry out research on the third pole ice sheet.

Tibetan Plateau First Occupied by Middle Pleistocene Denisovans
May 06, 2019
A joint research team led by CHEN Fahu from the Institute of Tibetan Plateau Research reported their studies on a human mandible found in Xiahe, on the Northeastern Tibetan Plateau. This study confirms for the first time that Denisovans not only lived ...