Chinese Scientists Develop New Catalyst for Hydrogen Fuel Cells
Feb 02, 2019 Email"> PrintText Size


Chinese scientists announced that they have successfully addressed a key problem impeding the promotion of hydrogen vehicles by developing a new catalyst system for fuel cells.

A research team led by Lu Junling, Wei Shiqiang and Yang Jinlong at the University of Science and Technology of China (USTC), has developed a new catalyst for fuel cells, which could prolong battery life and greatly extend the range of proper temperature for cells to work.

"These findings might greatly accelerate the advent of the era of hydrogen-powered vehicles," Lu said.

According to Lu, a major problem with improving the catalyst system of the fuel cell is catalyst poisoning by impure gases such as carbon monoxide (CO). Under the current production methods, 0.5 to 2 percent of hydrogen is CO, which often poisons the platinum electrode and thus cuts the life of fuel cells.

Currently, a preferred solution is on-board hydrogen purification, which involves preferential oxidation of CO in hydrogen (PROX). However, this approach is flawed since the catalyst can only work within a narrow temperature range above room temperature.

Atomically dispersed on silica-supported platinum nano-particles, the new catalyst of iron hydroxide enables complete and 100 percent selective CO removal through the PROX reaction over a broad temperature range of minus 75 degrees Celsius to 180 degrees Celsius.

Lu said the final aim of the team is to develop an affordable and efficient catalyst that offers full-time protection to fuel cells and be used for production of pure hydrogen in factories.

The study results were published in the renowned scientific journal Nature on Thursday. (Xinhua)
(Editor: CHEN Na)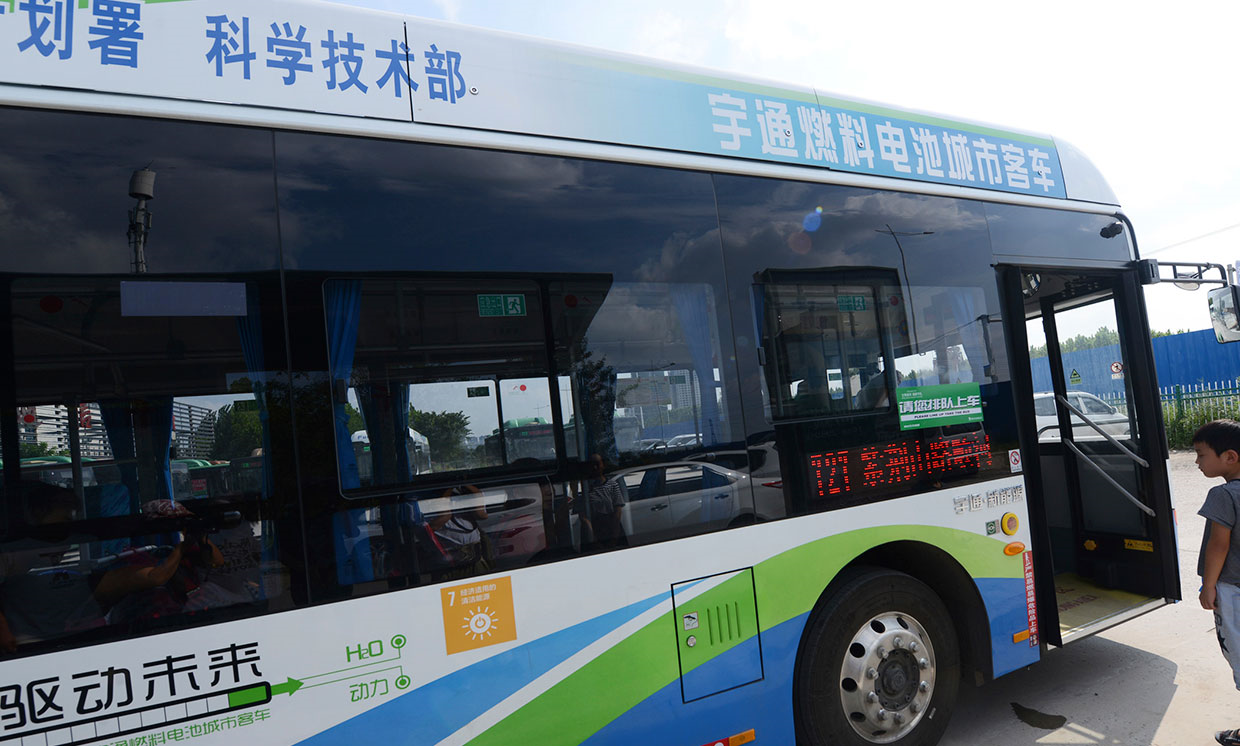 Iron-Platinum Catalyst Keeps Fuel Cells Clean, Even in Cold Weather
Jan 31, 2019
Batteries are currently outpacing fuel cells in the technological race to power the electric vehicle. Lithium batteries keep getting cheaper, while fuel cells remain hampered by pricey, short-lived platinum catalysts. An advance reported today in Natur...

China Develops Fuel Cell to Last 5,000 Hours
Mar 21, 2018
Chinese researchers have independently developed automobile fuel cell modules with over 5,000 hours durability. The hydrogen fuel cell product, developed by Sunrise Power based in northeast China's Dalian, can be switched on below minus 10 degrees Cels...

DICP Researchers Construct Nanostructured Ultrathin Catalyst Layer for PEMFCs with High Efficiency and Durability
Mar 15, 2017
Researchers from the Fuel Cell System & Engineering Group in Dalian Institute of Chemical Physics led by Prof. SHAO Zhigang made new progress in electrode mate-rials with ultralow Pt loading for proton exchange membrane fuel cells (PEMFCs). Researchers...