Nanomaterials have gained numerous anticipated achievements in biomedicine, including recent surges in developing nanoagents based drug delivery system (DDS) to circumvent the nonspecific biodistribution of free drugs. However, there are some as yet unsolved problems that impede the therapeutic effect of the DDS, including its complicated synthesis, insufficient drug release in tumors and low cancer cell chemosensitivity.
In a recent study published in
Adv. Sci.
, Prof. CHEN Xueyuan at Fujian Institute of Research on the Structure of Matter of Chinese Academy of Sciences and Prof. YANG Huanghao at Fuzhou University reported for the first time the engineering of an adenosine triphosphate (ATP)-activatable nanoagent based on self-assembled quantum dots (QDs)-phenolic nanoclusters.
Researchers constructed the smart nanoagent through one-step assembly which not only has high drug loading and low cytotoxicity to normal cells, but also enables ATP-activated disassembly and controlled drug delivery in cancer cells.
Particularly, the smart nanoagent can induce cell ATP depletion and increase cell chemosensitivity for significantly enhanced cancer chemotherapy.
Systematic in vitro and in vivo studies further revealed the capabilities of the nanoagent for intracellular ATP imaging, high tumor accumulation and eventual body clearance.
With high tumor accumulation and body clearance of the nanoagent, researchers realized the complete inhibition of tumor growth without evident side effects.
This study presented the design of smart nanoagents with improved cancer chemotherapy, which may accelerate the exploitation and clinical translation of smart therapeutic nanoagents.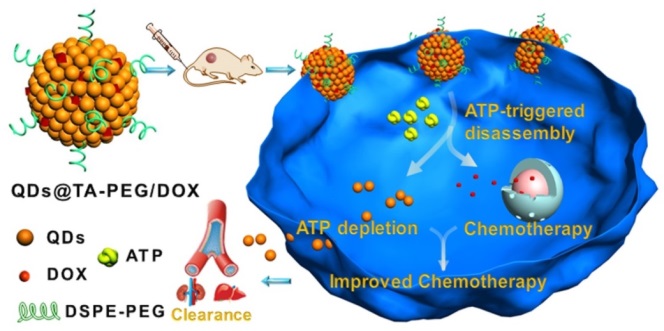 Schematic illustration of tumor environment responsive smart drug delivery system (Image by Prof. CHEN's group)