To increase the "biological precision" of clinical radiotherapy, Chinese researchers developed a dedicated online database, namely dbCRSR, which was online in the early of 2018.
This research was led by Professors ZHAO Guoping and WU Lijun in Institute of Technical Biology and Agriculture Engineering, Hefei Institutes of Physical Science, collaborating with Professor XIA Junfeng in Anhui University. And Database: The Journal of Biological Databases and Curation reported their work.
dbCRSR is a manually curated catalogue of radiosensitivity, containing multiple radiosensitivity regulation factors (395 coding genes, 119 non-coding RNAs, and 306 chemical compounds) with appropriate annotation.
Users can utilize the retrieval tools provided by the database to access the related information of genes, miRNAs, drugs, as well as other regulators that affect the radiosensitivity of each specific cancer.
In addition, users can also perform in-depth mining of information in the database, such as: combining gene expression and protein interactions, looking for potential radiotherapy sensitizing genes; using multi-omics data, sub-type analysis of patients' cancers, and provide individualized precision radiotherapy guidance for clinical doctors.
Radiotherapy is commonly used to treat cancers, of which "physical precision" has been greatly improved thanks to the development in technology of computer and imaging.
However, due to the differences in both patients and tumor itself, there are still some problems that "physical precision" cannot solve. For example, patients receiving radiotherapy may experience adverse treatment effects due to radioresistance and undifferentiated radiation that is toxic to normal tissue.
dbCRSR may make the ever first attempt to transform "physical precision" to "biological precision" to establish a literature-based resource for cancer radiosensitivity.
Besides, it is a resource to better understand the detailed mechanisms responsible for radiation response and to develop an effective strategy to accelerate the progress of personalized medicine in radiotherapy.
dbCRSR will continue to be updated and will be a valuable resource for precision medicine in cancer radiotherapy. And access to the database: http://bioinfo.ahu.edu.cn:8080/dbCRSR/
This work was supported by CAS Pioneer Hundred Talents Program (GZ), National Natural Science Foundation of China, and the Anhui Provincial Natural Science Foundation.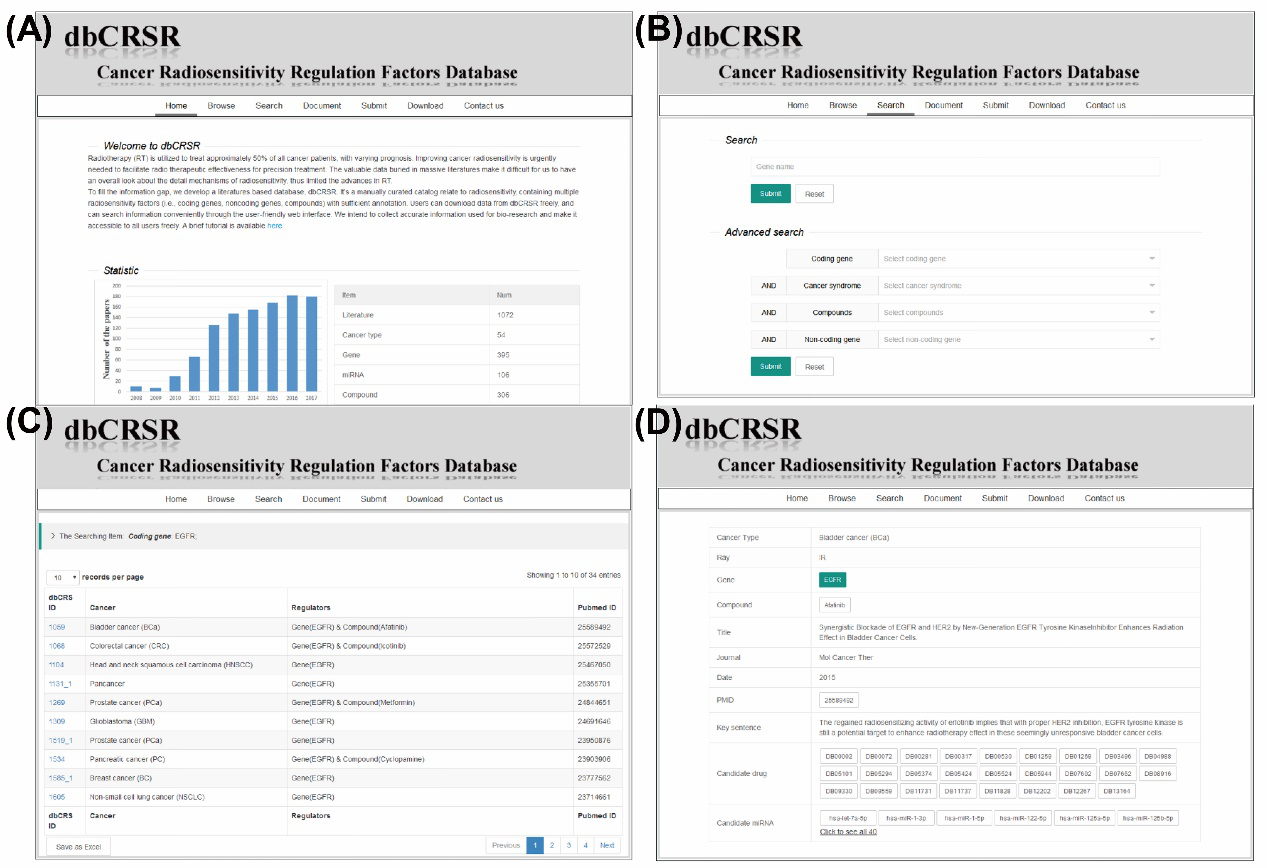 dbCRSR website screen shots (Image by WEN Pengbo)