Litter decomposition is an important ecological process in global carbon (C) and nitrogen (N) cycling in terrestrial ecosystems, which is crucial for nutrient cycling and above-ground plant productivity.
At present, many studies have focused on the effects of the changes of precipitation regimes and N deposition on C and N cycling, and future precipitation regimes and N deposition have been predicted to change in the global and regional scales.
Therefore, the study of the litter decomposition and nutrient release of dominant plant species in semi-arid grassland may provide the basic data for biogeochemistry cycles under scenarios of enhancing precipitation and N deposition.
Based on the water and N addition experiment established in 2005 in Duolun Restoration Ecological Research Station, Dr. WANG Xue and coworkers from soil chemistry group, Institute of Applied Ecology of the Chinese Academy of Sciences, conducted the study of the effect of water and N addition on litter decomposition and nutrient release of dominant plant species (Agropyron cristatum, Stipa krylovii and Artemisia frigida).
The results of 3-year research show that the litter decomposition and nutrient release rate of Artemisia was faster than that of the 2 grass species.
The mass loss in the early stage was attributed to the decomposition of non-structural carbon-hydrates. Water and nitrogen addition accelerated the litter mass loss of Agropyron but not Artemisia.
Nitrogen addition had positive effect on the litter decomposition of Stipa. After 3 years' decomposition, nitrogen and Potassium were released from the litter but Calcium was accumulated in the litter. Artemisia Litter released phosphorus and potassium but Agropyron and Stipa rather accumulated phosphorus andpotassium.
The above results were published in Plant and Soil entitled "Responses of litter decomposition and nutrient release rateto water and nitrogen addition differed among three plant species dominated in a semi-arid grassland".
This work was supported by the National Key Research and Development Program of China, the National Natural Science Foundation of China, the Youth Innovation Promotion Association CAS, and the Sino-Swiss Science and Technology Cooperation program.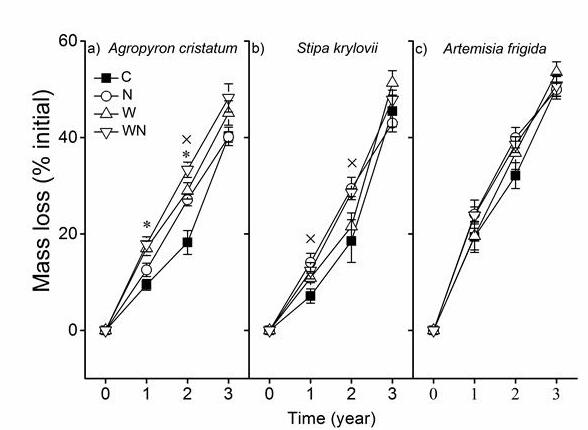 Figure 1 Effects of water and N addition on the mass loss rate of Agropyron cristatum, Stipa krylovii and Artemisia frigida litter during a 3-year decomposition period (Image by WANG Xue)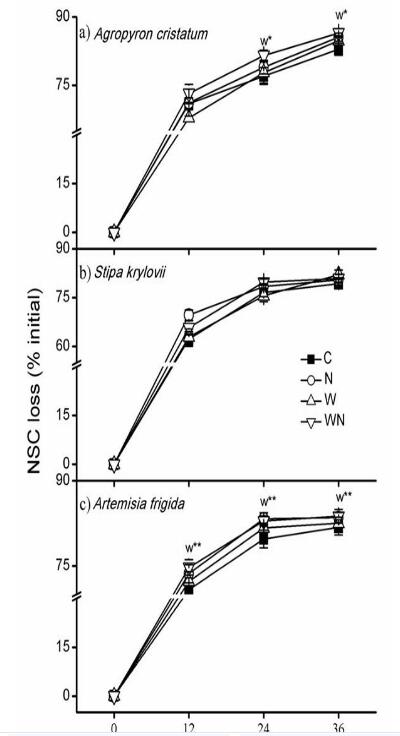 Figure 2 Effects of water and N addition on the loss of non-structural carbohydrates (NSC) of Agropyron cristatum, Stipa krylovii and Artemisia frigida litter during a 3-year decomposition period (Image by WANG Xue)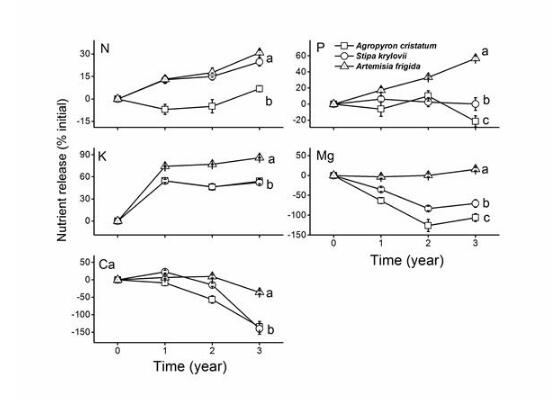 Figure 3 The release of N, P, K, Ca and Mg from Agropyron cristatum, Stipa krylovii and Artemisia frigida litter during a 3-year decomposition period (Image by WANG Xue)