Balsaminaceae (or the touch-me-not family) includes two genera, the monotypic genus Hydrocera and Impatiens which contains about 1000 species. Myanmar is rich in Impatiens species.
Since 2014, researchers from Xishuangbanna Tropical Botanical Garden (XTBG) of the Chinese Academy of Sciences have carried out repeated China-Myanmar joint botanical expeditions in northern Myanmar and collected numerous Impatiens species.
Based on the examination of fresh material in the field and dried herbarium specimens, the researchers conducted careful morphological studies.
They also carried out phylogenetic analysis and comparisons with other species, based on herbarium specimens, photographs and literatures). The researchers then confirmed two species new to science. They named the two species as Impatiens casseabriae and Impatiens putaoensis respectively.
Impatiens casseabriae is similar to Impatiens margaritifera, particularly in the absence of spur and small white flowers, but differs in its narrowly elliptic to narrowly oblanceolate leaves. It is also similar to I. taronensis in leaf characters, but differs in the white (not purple) flowers without spur (not with erect or slightly curved spur).
The name of Impatiens casseabriae is dedicated to three missions of the Southeast Asia Biodiversity Research Institute, Chinese Academy of Sciences (CAS-SEABRI), which include (a) serving China's "the Silk Road Economic Belt and the 21st Century Maritime Silk Road" initiative; (b) integrating efforts by CAS and international institutes to organize professional research groups and train researchers in Southeast Asian countries; and (c) providing support to all domestic and international partners.
Impatiens putaoensis is similar to I. xanthine, but it can be distinguished from the latter by having light greenish yellow flowers. Its lateral sepals are ovate to elliptic. Its lower lobe united petals is semilunar and dorsal petal is ovate to nearly orbicular
Impatiens putaoensis is known from Putao, Kachin State, Myanmar. It grows on wet places understory tropical rain forests, 500–700 m.
The two new species, Impatiens casseabriae and Impatiens putaoensis, have been published in Phytotaxa.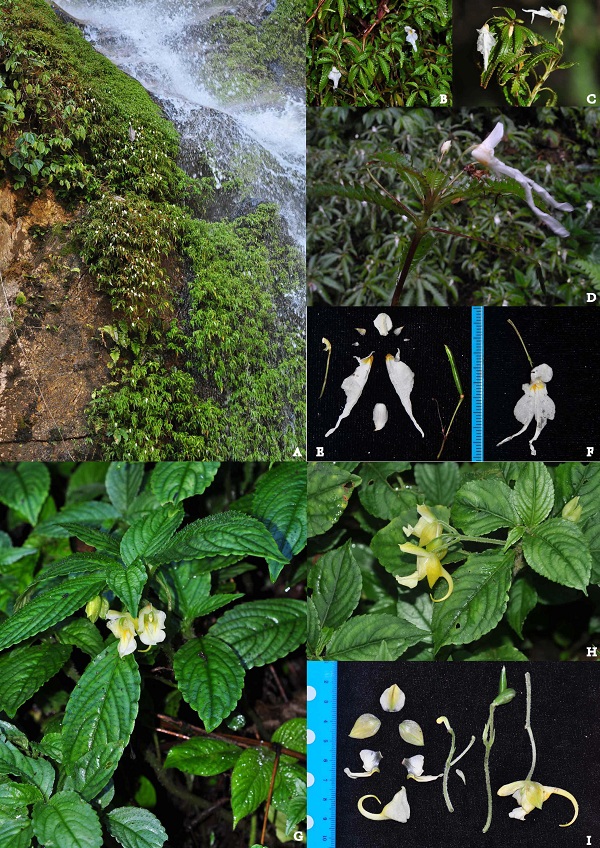 Impatiens casseabriae. A-D. Habit; E. Different parts of the flower and capsule; F. Flower (front view). Impatiens putaoensis.
G, H. Habit; I. Different parts of the flower, pedicel with immature capsule and pedicel with flower (lateral view). (Images by TAN Yunhong)