Previous studies have demonstrated that ammonia oxidizing microbes are sensitive to environmental factors such as pH, carbon, nitrogen, temperature, and moisture. Changes in such factors following Ageratina adenophora (a poisonous exotic weed) colonization may affect microbial communities and subsequent nitrogen transfer rates. However, it remains unclear which factors are actually affected by A. adenophora colonization, and up to what extent.
Researchers from Soil Ecology Research Group of Xishuangbanna Tropical Botanical Garden (XTBG) conducted a field experiment in A. adenophora populated and nonpopulated areas at four different places of Xishuangbanna, Southwest China.
They aimed to test the hypothesis that overgrowing A. adenophora stimulates nitrification by altering ammonia-oxidizing microbial communities, and these altered microbial communities would be highly correlated to changes in soil characteristics.
The researchers compared soil physical and chemical properties (Soil moisture, total C, N, NH4+, NO3−, available P, K and pH) and potential nitrification rates in populated and non-populated soils.
They also investigated ammonia oxidizing archaea (AOA) and ammonia oxidizing bacteria (AOB) abundance and community composition using Real-time PCR and Illumina Miseq approach respectively.
They observed significant higher NO3−-N content under overgrowing plant A. adenophora. AOB abundance increased in the presence of A. adenophora. They also observed positive correlations between soil pH and AOB, but negative correlations between soil pH and AOA.
Moreover, increased AOB abundance played critical role in accelerating transformation of NH4+ to NO3− under neutral or alkaline soil conditions.
The researchers thus proposed soil pH as the main determining factor for successful colonization of A. adenophora as it directly affects abundance of AOB and further nitrification rates.
The study entitled "pH drives ammonia oxidizing bacteria rather than archaea thereby stimulate nitrification under Ageratina adenophora colonization" has been published online in Soil Biology and Biotechnology.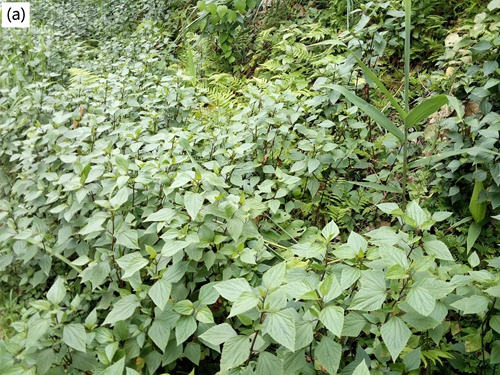 Site with overgrowing A. adenophora. (Image by XIAO Haifeng)
Nearby A. adenophora non-populated site. (Image by XIAO Haifeng)