Plant architecture is the major determinant for shaping higher yield in rice, and it also confers the resistance in plant lodging. It is important to generate ideal plant architecture (IPA) in crop breeding to gain superior yielding potential.
A major gene named ideal plant architecture 1 (ipa1/ipa1-1D), has been identified that encodes an SBP-domain transcriptional factor. Using the IPA breeding strategy, Chinese breeders have developed a series of super rice varieties with high yield potential, however, the majority of them do not contain the ipa1-1D allele, suggesting the existence of novel IPA loci.
Prof. HE Zuhua's group at Shanghai Institute of Plant Physiology and Ecology (SIPPE) of Chinese Academy of Sciences (CAS), in collaboration with LI Jiayang's Lab at Institute of Genetics and Developmental Biology of CAS, has successfully isolated the major IPA locus from super rice Yongyou variety series, and named it as qWS8/ipa1-2D. The study has been published online in Nature Communications.
Their study showed that the locus contains no coding gene and belongs to a large tandem triple-repeats, which reside in the upstream region of IPA1. The genomic variation can alleviate the DNA methylation in the IPA1 promoter, thus up-regulate IPA1 expression and finally contribute to the optimal plant architecture. It is proved that the locus is originated recently from China.
IPA traits were found that they can be shaped to different degrees by IPA1 dosage. Therefore, superior yielding plant architecture with balance among large panicles, modest tillers and strong culms can be achieved by combining different natural IPA1 alleles in breeding practice.
Collaborating with the Jiaxing Academy of Agricultural Sciences, researchers successfully de novo designed and developed several super rice varieties with high yield potential by molecular assisted selection (MAS) of both ipa1-1D and ipa1-2D alleles, confirming the values of those alleles.
This study laid the foundation to further dissect the molecular mechanism of IPA regulation and provides efficient genetic resource and breeding technology for super rice development.
The study was supported by Ministry of Science and Technology of China, the Chinese Academy of Sciences, the National Natural Science Foundation of China.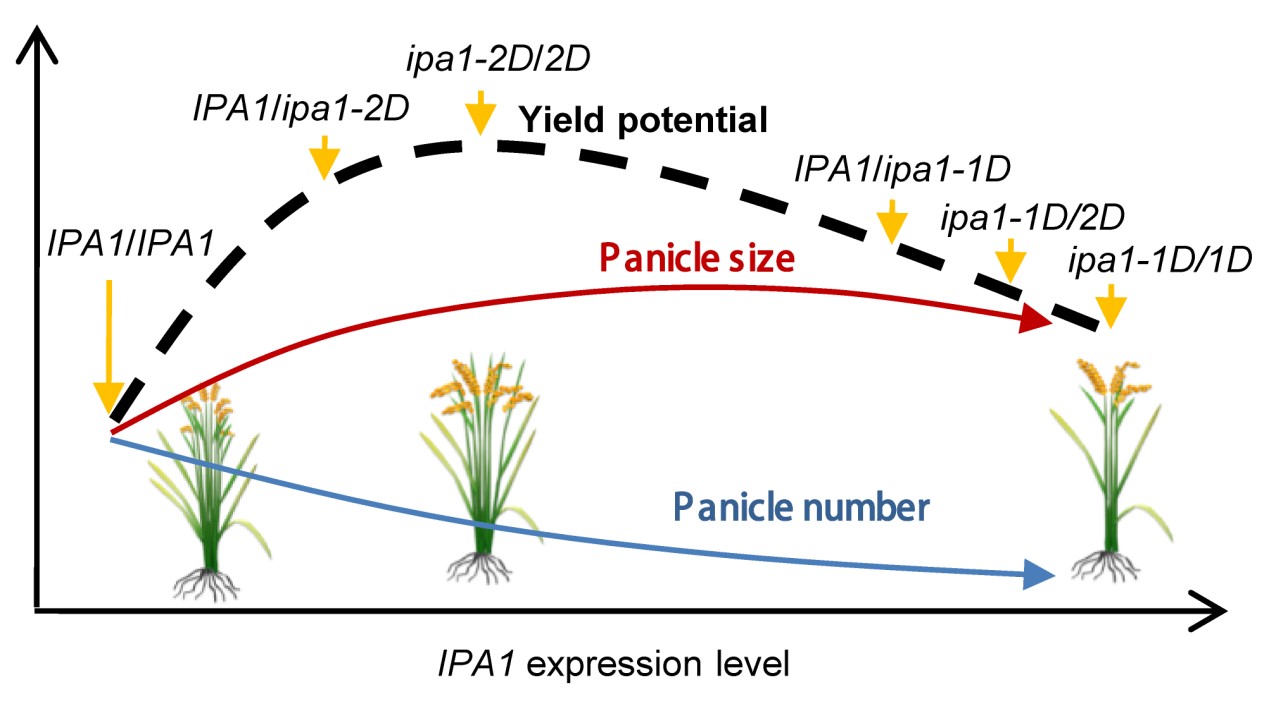 Figure: A model for breeding rice with varying IPA traits by combining different alleles (Image by SIPPE)