The "Single-atom Catalysis" concept was firstly raised by Prof. ZHANG Tao and coworkers. Single atoms dispersed on a solid support can act as an efficient heterogeneous catalyst.
Single Pt atoms coating on FeOx surface exhibit highly active for CO oxidation and preferential oxidation of CO in H2 (NATURE CHEMISTRY). Since then, the topic of single-atom catalysis has drawn increasing attention and progressed rapidly.
Single-atom catalysts have the advantages both of homogeneous catalysts such as "isolated sites" and heterogeneous catalysts such as stability and reusability.
Therefore, it is believed that single-atom catalysis could bridge the hetero- and homogeneous catalysis, although it has not been exclusively demonstrated so far.
Hydroformylation of olefins is one of the most important homogeneously catalyzed industrial processes for aldehyde synthesis with more than 10 million tons global production annually.
Recently, Prof. ZHANG Tao and Dr. QIAO Botao from Dalian Institute of Chemical Physics (DICP) of the Chinese Academy of Sciences synthesized a novel ZnO nanowire supporting Rh single-atom catalyst. The Rh1/ZnOnw single-atom catalyst can be used for hydroformylation of olefins with remarkable activity under mild reaction conditions.
It is comparable to the representative homogeneous Wilkinson's catalyst (Rh(PPh3)3Cl). Since there is no hydrogenation side product of ethylbenzene being detected, Rh1/ZnOnw catalysts exhibit 99% chemoselectivity along with good substrate tolerance and stability.
HAADF-STEM and the infrared CO chemisorption identified the presence of isolated Rh atoms on support. In situ XPS and XANES spectra indicated the electronic state of Rh was almost metallic.
It is the first successful example that supported heterogeneous catalysts with atomically dispersed metal sites, which can exhibit comparable reactivity with homogenous catalysts.
The finding may open a new way for the applications of single-atom catalysis, and pave a new avenue to the heterogenization of homogenous catalysts.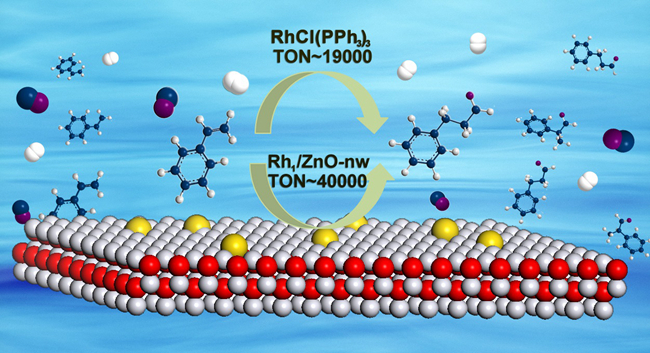 Hydroformylation of Olefins by a Rhodium Single-Atom Catalyst with Activity Comparable to RhCl(PPh3)3 (Image by LANG Rui and QIAO Botao)
This work was published as Hot Paper (Top 10%) in Angew. Chem. Int. Ed. and selected as a back cover story in the latest issue.
The research work is financially supported by the National Natural Science Foundation of China, Strategic Priority Research Program of the Chinese Academy of Sciences, National Key Projects for Fundamental Research and Development of China.